FOR IMMEDIATE RELEASE:
Friday, April 17, 2015
Peace Corps Volunteers Encourage Leadership among Youth Around the World
WASHINGTON, D.C., April 17, 2015 – Peace Corps volunteers around the world are encouraging youth to be leaders in their communities to effect change. In celebration of Global Youth Service Day, the Peace Corps recognizes the thousands of volunteers who teach young people about the value of service and put them on a path to success. Nine percent of Peace Corps volunteers currently work in youth development, and another 38 percent of volunteers educate youth in their community.
Observed April 17-19, Global Youth Service Day mobilizes millions of young people to participate in community service activities and is the largest recognized celebration of the contributions that young people make through service.
Below find three examples of Peace Corps volunteer projects that are making a difference in the lives of young people.
Cameroon
During her Peace Corps service in Cameroon, recently returned volunteer Caroline Mills of West Chester, Pennsylvania, worked with local community leaders to educate youth and reduce stigma and discrimination around HIV/AIDS.
Mills and her community members organized a visit for local teenagers to area health centers to learn about HIV/AIDS prevention and treatment, and techniques to dispel myths and misconceptions about the disease. Mills' students then coordinated a health center clean-up and HIV/AIDS walk to generate community awareness.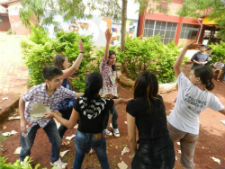 "Potential impacts include a better understanding of the needs and support for those living with HIV/AIDS, and an overall increase in inspiration of youth wanting to change their community, country and world," said Mills, a graduate of James Madison University who served in Cameroon from 2012-2014.
Paraguay
Recently returned Peace Corps volunteer Grace Janssen of Bloomington, Minnesota, led a local environment group in her community in Paraguay to educate youth about the environment and help them develop leadership skills. Following a field trip to a nationwide environmental camp called Paraguay Verde (Green Paraguay), Janssen encouraged her students to form a group of their own to increase environmental awareness among their peers.
Since its formation, the group has learned the differences between inorganic and organic trash, started a school garden and composting, built a bench out of eco-bricks, and created art using recycled materials. The students are also spearheading a tree-planting campaign in collaboration with the mayor and local and international organizations.
"This group wouldn't have happened without Paraguay Verde," said Janssen, a graduate of The College of Saint Benedict who served in Paraguay from 2012-2015. "That camp gave my youth group the motivation and confidence to be leaders in their community, and now they are recognized as positive influencers."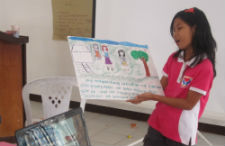 Philippines
Peace Corps volunteer Laurenia Mangum of Hopewell, Virginia, is working with her community to develop a project plan for the creation of a safe housing facility for Filipino victims of gender-based violence and their children. This independent living facility, called the Cottage Model Housing Program, will be an offshoot of an existing local shelter that provides housing, medical care, counseling and skill-building to women who have experienced gender-based violence.
One of the shelter's greatest challenges is a lack of available housing for children in the communal space, so the Cottage Model Housing Program will create a separate space for women with children, giving them access to care while keeping their family intact.
"If women could enter the shelter without having to leave their children behind, they would be more likely to seek out help in the first place and stay for the length of time needed to get back on their feet," said Mangum, a graduate of Virginia Commonwealth University who has been living in the Philippines since 2012. "It would also be a place where children, themselves often victims of abuse, would be able to receive professional services and care."
About the Peace Corps: The Peace Corps sends the best and brightest Americans abroad on behalf of the United States to tackle the most pressing needs of people around the world. Volunteers work at the grassroots level to develop sustainable solutions that address challenges in education, health, economic development, agriculture, environment and youth development. Through their service, volunteers gain a unique cultural understanding and a life-long commitment to service that positions them to succeed in today's global economy. Since President John F. Kennedy established the Peace Corps in 1961, nearly 220,000 Americans of all ages have served in 140 countries worldwide. For more information, visit www.peacecorps.gov and follow us on Facebook and Twitter.
# # #
---