FOR IMMEDIATE RELEASE:
Monday, August 12, 2013
Peace Corps Volunteers Empower Future Youth Leaders at Regional Youth Leadership Conference in Ukraine
WASHINGTON, D.C., August 12, 2013 – In honor of International Youth Day, the Peace Corps recognizes volunteers worldwide who are making a difference by engaging youth through Youth in Development projects focused on topics like life skills, employment and volunteerism. Currently, 6 percent of Peace Corps volunteers work primarily on Youth in Development projects.
Below find one example of a Peace Corps volunteer project focused on engaging youth through service learning and civic involvement in Ukraine.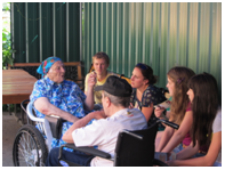 Peace Corps volunteers Lauren Hosp of Centennial, Colo., and Maria Corriher of China Grove, N.C., recently collaborated with their local Ukrainian communities to hold a regional youth leadership conference designed to empower and motivate future youth leaders to take an active role in their community.
"The purpose of this conference was to motivate potential student leaders to become more active in their communities by introducing them to young adult community leaders and volunteer-based, charitable organizations in Ukraine," Hosp said.
The conference taught students skills specific to project design and management, leadership, active citizenship and volunteerism, and teamwork. During the conference, students teamed up to participate in shared service projects and designed individual service projects to complete in their own communities.
"This conference empowered students to take their future into their own hands and understand that they have the possibility to change their communities and the country," Hosp said.
Local community organizations, local government, the Poltava Institute of Law and Economics, and Peace Corps volunteers came together to support the conference. The Peace Corps Partnership Program (PCPP) helped fund housing, meals and support materials for the conference participants.
PCPP helps fund Peace Corps volunteer community projects worldwide. In order to receive funding, a community must make at least a 25 percent contribution to the total project cost and outline success indicators for each individual project. One hundred percent of each tax-deductible PCPP donation goes toward a development project.
About Peace Corps' Youth in Development Sector: Peace Corps Youth in Development volunteers act as catalysts for change by creating strong relationships with students, parents and community members. Volunteers engage in a wide variety of outreach projects involving at-risk children or youth. Projects focus on developing critical thinking life skills, such as decision-making, goal setting, communication, leadership and self-esteem. These skills help young people make the transition from school to productive, dignified work or careers. Currently, 6 percent of Peace Corps volunteers work primarily on Youth in Development projects.
About Peace Corps/Ukraine: More than 2,630 Peace Corps volunteers have served in Ukraine since the program was established in 1992. Currently, about 463 volunteers serve in Ukraine. Volunteers work in the areas of education, economic development and youth development. Volunteers are trained and work in Russian and Ukrainian.
About the Peace Corps: Since President John F. Kennedy established the Peace Corps by executive order on March 1, 1961, more than 210,000 Americans have served in 139 host countries. Today, 8,073 volunteers are working with local communities in 76 host countries in agriculture, community economic development, education, environment, health and youth in development. Peace Corps volunteers must be U.S. citizens and at least 18 years of age. Peace Corps service is a 27-month commitment and the agency's mission is to promote world peace and friendship and a better understanding between Americans and people of other countries. Visit www.peacecorps.gov for more information.
# # #
---