FOR IMMEDIATE RELEASE:
Tuesday, February 3, 2015
Peace Corps Volunteers Distribute 20,000 Ribbons to Promote Awareness of Gender-Based Violence in Botswana
WASHINGTON, D.C., Feb. 3, 2015 – Peace Corps volunteer Peggy Flynn of Santa Cruz, California, has teamed up with fellow Peace Corps volunteers and local community members to raise awareness of gender-based violence in Botswana, where more than two-thirds of women experience some form of gender-based violence in their lifetime.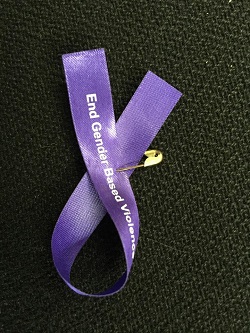 Over 16 days, Flynn and more than 30 fellow Peace Corps volunteers distributed 20,000 ribbons to community members that read "End Gender-Based Violence"; held training sessions on the importance of gender equality; and led a gender-based violence awareness march, where local male leaders dressed as women to draw attention to the cause. In total, their activities spanned 36 villages throughout the country.
"Botswana has a surprisingly high rate of gender-based violence despite being a very stable country," said Flynn, who started a non-governmental organization that provides social services to homeless teens prior to her Peace Corps service. "Anything that can highlight this problem and help educate and eradicate gender-based violence, like men literally taking a walk in women's shoes, is worthwhile."
Studies show that curbing gender-based violence is critical to stemming the spread of HIV.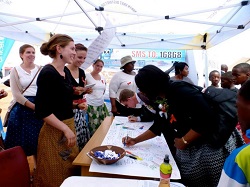 "The risk of HIV among women who have experienced violence may be up to three times higher than among those who have not," said U.S. Ambassador to Botswana Earl Miller. "Gender-based violence fosters the spread of HIV/AIDS by limiting one's ability to negotiate safe sexual practices, disclose HIV status, and access services – all due to fear of reprisal."
The efforts of Flynn and her counterparts were far-reaching to garner widespread support. Thousands of people, including government officials, U.S. Embassy staff, men participating in the awareness march, and even those unable to attend the march, received ribbons.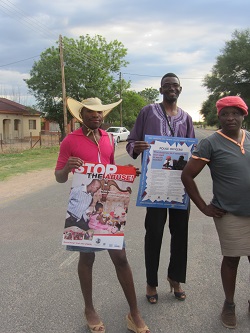 "Everyone was pleased to wear them, and agrees that gender-based violence has to end in Botswana," Flynn said.
Support from the Botswana Government and funding from the U.S. President's Emergency Plan for AIDS Relief (PEPFAR) made Flynn's project possible.
About Peace Corps/Botswana: There are currently 156 volunteers in Botswana working in the areas of health, community economic development and education. During their service in Botswana, volunteers learn to speak the local languages, including Setswana and Ikalanga. More than 2,370 Peace Corps volunteers have served in Botswana since the program was established in 1966.
About the Peace Corps: The Peace Corps sends the best and brightest Americans abroad on behalf of the United States to tackle the most pressing needs of people around the world. Volunteers work at the grassroots level to develop sustainable solutions that address challenges in education, health, economic development, agriculture, environment and youth development. Through their service, volunteers gain a unique cultural understanding and a life-long commitment to service that positions them to succeed in today's global economy. Since President John F. Kennedy established the Peace Corps in 1961, nearly 220,000 Americans of all ages have served in 140 countries worldwide. For more information, visit www.peacecorps.gov and follow us on Facebook and Twitter.
# # #
---