FOR IMMEDIATE RELEASE:
Tuesday, December 3, 2013
Peace Corps Volunteers Deliver Art Supplies to Moroccan Students to Encourage Artistic Expression
WASHINGTON, D.C., Dec. 3, 2013 – Peace Corps education volunteer Margaret Bridges of Brookfield, Wis., recently coordinated a nine-day art education tour throughout southern Morocco to foster students' creativity and encourage artistic expression. Working with local elementary schools and women's and youth centers, fellow Peace Corps volunteers, and a U.S.-based non-governmental organization (NGO), Bridges hosted a series of workshops that engaged 1,250 boys and girls between the ages of 4 and 17.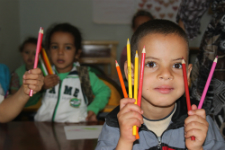 "Moroccan culture, and specifically Moroccan Berber culture, has a strong connection to singing, dancing and design-related crafts," said Bridges, a graduate of Carnegie Mellon University who has been living and working in Morocco since 2011. "Bringing art education into the classroom helps students supplement their education with traditions they already practice in their home life."
As part of the tour, the group distributed more than 1,200 packages of colored pencils, pencil sharpeners and paper. The workshops and supplies gave children an opportunity to express themselves through art, helped teachers incorporate art into their curriculum for the first time, and led a youth center to start a weekly art club.
"Bringing children a pack of colored pencils and a piece of paper may seem simple, but it has an incredibly powerful influence," Bridges said.
The expertise of the project's NGO partner, together with Peace Corps volunteers' local language and cultural integration skills, improved the quality and sustainability of the art education tour. Collaborating with Peace Corps volunteers also helped the NGO reach its 10,000th child worldwide in a part of Morocco that is often overlooked by other NGOs.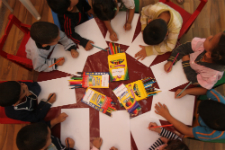 "On a daily basis, I see kids who attended the program and when I ask them if they're using their colored pencils, they light up with excitement and show me pictures they've drawn on their own at home," Bridges said. "I run into parents frequently who say their children have really enjoyed coloring at home."
Bridges' fellow Peace Corps volunteers who assisted with the project include: Erin McIntosh of Atlanta; Erick Faulk of Eugene, Ore.; Tatiana Cary of Seattle; Lindsay Lockhart of Campbell, Calif.; Kareema Abusaab of Philadelphia; and Melanie Warning of Cincinnati.
About Peace Corps/Morocco: There are currently 215 volunteers in Morocco working in youth development. During their service in Morocco, volunteers learn to speak the local languages, including: Darisha, Tamazight and Tashelheet. More than 4,625 Peace Corps volunteers have served in Morocco since the program was established in 1963.
About the Peace Corps: As the preeminent international service organization of the United States, the Peace Corps sends Americans abroad to tackle the most pressing needs of people around the world. Peace Corps volunteers work at the grassroots level with local governments, schools, communities, small businesses and entrepreneurs to develop sustainable solutions that address challenges in education, health, economic development, agriculture, environment and youth development. When they return home, volunteers bring their knowledge and experiences – and a global outlook – back to the United States that enriches the lives of those around them. President John F. Kennedy established the Peace Corps in 1961 to foster a better understanding among Americans and people of other countries. Since then, more than 215,000 Americans of all ages have served in 139 countries worldwide. Visit www.peacecorps.gov to learn more.
# # #
---