FOR IMMEDIATE RELEASE:
Monday, January 23, 2012
Peace Corps Volunteers Create Soap Opera to Teach Youth Life Skills in the Dominican Republic
WASHINGTON, D.C., January 23, 2012 Sixteen Peace Corps volunteers in the Dominican Republic are producing and filming a telenovela (soap opera) entitled, Me Toca a Mi (Its my turn) with more than 25 local youth that will be used in classrooms, educational centers, and youth clubs throughout the country. The telenovela is designed to teach life skills and HIV/AIDS prevention and awareness.
"We were looking for ways that education [volunteers] could be more relevant and could do something more applicable to problems we were seeing in our sites in the Dominican Republic, said Peace Corps volunteer Jean Erickson of Wallingford, Pa., who is the executive producer of the project. A lot of people were seeing that youth were struggling with common adolescent issues and that there werent as many resources for them or ways that they could learn about alternative choices. They didnt have the role models, they didnt have the information and they didnt have the alternatives.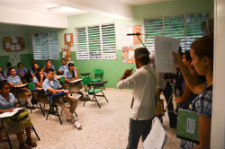 Over the course of four days in October, Peace Corps volunteers completed production of the first three episodes of Me Toca A Mi, touching on themes like substance abuse, romantic relationships and development. The episodes will be distributed later this summer.
Peace Corps volunteers are currently in the process of editing the episodes and are planning a second production of two more episodes scheduled for Jan. 26 to Jan. 29. Afterward, volunteers will shoot five more episodes for a total of 10 episodes. They will continue to explore a variety of topics relevant to youth, such as self-esteem and identity, sexuality and sexual orientation, health, teen pregnancy, domestic violence, gender equality and race. The project is funded by a grant from the President\'s Emergency Plan for AIDS Relief (PEPFAR).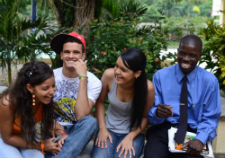 "Working on a non-traditional project like this is interesting because we are able to reach different levels of Dominican youth, said David Richie, executive director and an informational technology volunteer who has been working in the Dominican Republic since March 2011. The youth working directly in the filming and production are learning about opportunities and jobs in a creative sector they otherwise would never have access to. Also, the project will reach a much broader community of Dominicans with the messages and lessons in each episode.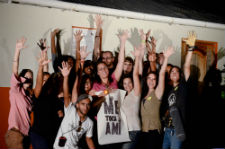 About Peace Corps/Dominican Republic:
More than 4,220 Peace Corps volunteers have served in the Dominican Republic since the program was established in 1962. Currently, 220 volunteers serve in the Dominican Republic. Volunteers work in the areas of community development, health, education, environment and business. Volunteers are trained and work in Spanish and basic Haitian Kreyol.
About the Peace Corps:
Since President John F. Kennedy established the Peace Corps by executive order on March 1, 1961, more than 200,000 Americans have served in 139 host countries. Today, 9,095 volunteers are working with local communities in 75 host countries. Peace Corps volunteers must be U.S. citizens and at least 18 years of age. Peace Corps service is a 27-month commitment and the agencys mission is to promote world peace and friendship and a better understanding between Americans and people of other countries. Visit www.peacecorps.gov for more information.
# # #
---