FOR IMMEDIATE RELEASE:
Tuesday, April 1, 2014
Peace Corps Volunteers Create First-Ever Visual Record of Kenyan Sign Language to Improve Deaf Education
WASHINGTON, D.C., April 1, 2014 – Peace Corps volunteers Rachel Rose of Olathe, Kan., and Peter Hess of Boise, Idaho, are working with local community members and fellow volunteers to improve the quality and consistency of deaf education throughout Kenya by developing the country's first Kenyan Sign Language (KSL) digital video glossary.
"Consistency within the Kenyan deaf education system is difficult because Kenyan Sign Language can vary dramatically from region to region," said Rose, a graduate of Gallaudet University who has been living in Kenya since 2011. "When a teacher in a deaf school doesn't know the appropriate sign for a concept, there is a temptation to borrow terms from American Sign Language or invent a sign of their own, which is culturally inappropriate and leads to confusion. With the KSL glossary, teachers and future volunteers will have a reference that better prepares them to teach deaf pupils."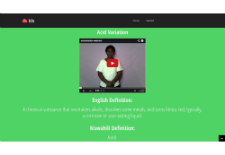 The digital glossary includes signs for science and math education, with plans to expand to additional subject areas relevant for teachers across the country.
Peace Corps volunteers and members of the Kenyan deaf community visited four schools for the deaf in four different regions of Kenya to collect video content for the digital glossary. With short videos of more than 500 signs compiled, Rose brought a team of experts together from various KSL-related fields to ensure conceptual accuracy and adherence to grammatical structure. Once each sign was approved, it was entered into the glossary.
To develop a platform for sharing the digital glossary, Rose and Hess submitted the project to the International Development Hackathonorganized by students at Harvard and MIT. The 24 hour development event offers pro-bono support to projects solicited from nongovernmental organizations, nonprofits, and government organizations operating in the international development space. Using video conferencing, Rose and Hess worked virtually with three teams that developed three different solutions.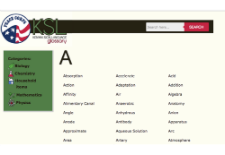 "During the hackathon, I was able to Skype with the groups to help address specific issues and provide some guidance on what exactly we were looking for," said Hess, a graduate of the University of Oregon who has been serving as a Peace Corps volunteer in Kenya since 2011. "I have continued working with the groups to finalize the projects and am looking at free hosting solutions to develop one final platform for the glossary."
Once completed, Rose and Hess plan to distribute the digital glossary to incoming Peace Corps volunteers and further develop the platform so that it can be easily managed by the local community and will be available to teachers throughout Kenya.
"For me, it always comes down to how essential language training is to the work we do as Peace Corps volunteers within the Kenyan deaf community," Rose said. "The higher the proficiency levels of our volunteers in KSL, the better community partners we are. And that's the kind of impact we're hoping to have."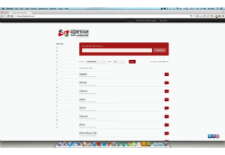 Watch this video to learn more about Peace Corps volunteers' Kenyan sign language project.
About Peace Corps/Kenya: There are currently 100 volunteers in Kenya working in the areas of education, health and community economic development. During their service in Kenya, volunteers learn to speak the local languages, including: Kiswahili, Kenyan Sign Language, Kalenjin, Kikuyu, Luo and Luyha. More than 5,155 Peace Corps volunteers have served in Kenya since the program was established in 1964.
About the Peace Corps: As the preeminent international service organization of the United States, the Peace Corps sends Americans abroad to tackle the most pressing needs of people around the world. Peace Corps volunteers work at the grassroots level with local governments, schools, communities, small businesses and entrepreneurs to develop sustainable solutions that address challenges in education, health, economic development, agriculture, environment and youth development. When they return home, volunteers bring their knowledge and experiences – and a global outlook – back to the United States that enriches the lives of those around them. President John F. Kennedy established the Peace Corps in 1961 to foster a better understanding among Americans and people of other countries. Since then, more than 215,000 Americans of all ages have served in 139 countries worldwide. Visit www.peacecorps.gov to learn more.
# # #
---