FOR IMMEDIATE RELEASE:
Thursday, July 28, 2011
Peace Corps Volunteers Convene Leadership Summer Camps for 150 Togolese Youth
WASHINGTON, D.C., July 28, 2011 Twenty-four Peace Corps volunteers in Togo managed four, week-long leadership camps for nearly 150 Togolese youth aged 12 to 23 in Pagala, in May and July. Youth attending Camp UNITE (Unification of the Nation: Initiative-Work-Education) learned about leadership, communication, life skills, gender equality, and HIV/AIDS through interactive workshops, small-group discussions, and team-building challenges.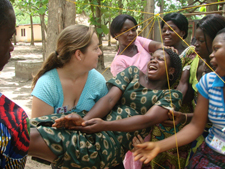 "Camp UNITE is a peer educator camp that provides young people with information and skills that help inform healthy life choices, said Peace Corps volunteer Rose Lindgren of Thousand Oaks, Calif., who has helped manage the camps for the last three years in Togo. After a week full of activities and workshops from early morning to late at night, campers are equally exhausted and exhilarated, sad to leave new friends, and happy to return home to share what theyve learned.
Each camp session is run by a Peace Corps volunteer and a Togolese counselor, a practice that promotes cross-cultural collaboration and sustainability. At the conclusion of each camp, the participants organize local day camps or youth clubs in their villages to practice their new skills and share what they learned at Camp UNITE with their local community.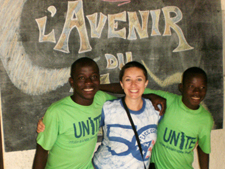 Peace Corps volunteers in Togo originally established Camp UNITE in 2001 to empower Togolese youth. The program has since flourished and expanded with Peace Corps volunteers planning and organizing the camps in collaboration with several local Togolese organizations. Every year, Peace Corps volunteers hold a workshop to train counselors and teach facilitators about Camp UNITEs participatory methodology. In 2008, Camp UNITE inspired returned Peace Corps volunteers from Togo to start the UNITE Foundation to help fund future camps and engage Americans in service and international development.

About Peace Corps/Togo:
More than 2,630 Peace Corps volunteers have served in Togo since the program was established in 1962. Volunteers in this West African nation work in the areas of education, natural resource management, health and HIV/AIDS awareness, business development, and information technology. All volunteers in Togo work in HIV/AIDS prevention. Currently, 117 volunteers are serving in Togo.
About the Peace Corps:
President John F. Kennedy established the Peace Corps on March 1, 1961, by executive order. Throughout 2011, Peace Corps is commemorating 50 years of promoting peace and friendship around the world. Historically, more than 200,000 Americans have served with the Peace Corps to promote a better understanding between Americans and the people of 139 host countries. Today, 8,655 volunteers are working with local communities in 76 host countries. Peace Corps volunteers must be U.S. citizens and at least 18 years of age. Peace Corps service is a 27-month commitment. Visit www.peacecorps.gov for more information.
# # #
---