FOR IMMEDIATE RELEASE:
Wednesday, December 7, 2011
Peace Corps Volunteers Construct 52 Water Pumps in Rural Senegal
WASHINGTON, D.C., December 7, 2011 Peace Corps volunteers Marcie Todd of Citrus Heights, Calif., and Garrison Harward of Ojai, Calif., are installing 52 water pumps over the course of a year in villages across Senegal.
We installed a pump in one large community with only two wells that has never had easy access to fresh water. With this new source, they are already discussing possibilities for starting a community garden and fruit tree nursery, said Harward, a graduate of California State University, Chico, who has been working as a sustainable agriculture volunteer in Senegal since August 2010. Based on what Ive seen here they certainly have the motivation and dedication to get the job done. This is just the start of many good things to come in the community.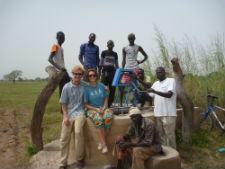 In August, the Peace Corps volunteers began installing the rope pumps, which use a simple, appropriate technology that accelerates the process of pulling water out of wells. The pumps also relieve congestion around wells in local villages and give people access to more water.
"Fifty-two pumps in 52 weeks is a massive quest for two Peace Corps volunteers and a few local partners, said Todd, a graduate of University of Redlands. Todd noted that each installation takes considerable time and preparation and each pump costs about $100.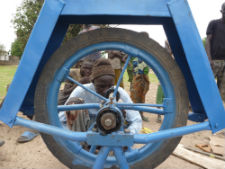 About Peace Corps/Senegal:
More than 3,190 Peace Corps volunteers have served in Senegal since the program was established in 1963. Currently, 254 volunteers serve in Senegal. Volunteers work in the areas of business, agriculture and health. Volunteers are trained and work in the following languages: Bambara, Diahonke, French, Fula Kunda, Malinke, Mandinka, Pulaar du Nord, Pula Fuuta, Sereer, Soussou and Wolof.
About the Peace Corps:
President John F. Kennedy established the Peace Corps on March 1, 1961, by executive order. Throughout 2011, Peace Corps is commemorating 50 years of promoting peace and friendship around the world. Historically, more than 200,000 Americans have served with the Peace Corps to promote a better understanding between Americans and the people of 139 host countries. Today, 9,095 volunteers are working with local communities in 75 host countries. Peace Corps volunteers must be U.S. citizens and at least 18 years of age. Peace Corps service is a 27-month commitment. Visit www.peacecorps.gov for more information.
# # #
---