FOR IMMEDIATE RELEASE:
Friday, July 29, 2011
Peace Corps Volunteers Conduct Baseball Camp for 200 Filipino Students
Washington, D.C., July 29, 2011 More than 200 Filipino students age 10 to 14 participated in a two-day baseball camp in Baguio City on
July 9 and 10
organized by the Peace Corps and a returned Peace Corps volunteer in collaboration with the U.S. Embassy and Baseball Philippines, the countrys professional baseball league. Peace Corps volunteers played a game of softball with students and helped run a baseball clinic to promote sportsmanship, fitness, and camaraderie. The event featured U.S. Ambassador to the Philippines Harry Thomas Jr. and was attended by many students of Peace Corps education volunteers from the Baguio City area.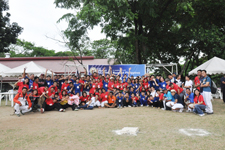 "Events like the baseball camp really motivate students to work harder at sports and school and can play an especially important role for young people coming from difficult backgrounds or family situations, said Peace Corps education volunteer Steven Klimberg of Cherry Hill, N.J., who has served as an English language teacher in the Philippines since August 2010. Sports can help teach students responsibility, accountability, teamwork, a work ethic, and many other positive qualities including self-pride. Since the baseball camp, the high school players in my school have been practicing daily on their own without a coach and are continuing to work hard to improve themselves."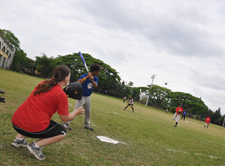 The July event is the second in a series of three events. The first camp was hosted in Quezon City in March. The third camp will take place in Cebu City in September. The baseball camps are part of the U.S. Embassys America in 3D initiative, a nationwide program highlighting American culture, values, and society through a multi-day series of cultural performances, youth programs, community-service projects, sports clinics, and information exhibits.
About Peace Corps/Philippines:
More than 8,520 Peace Corps volunteers have served in the Philippines since the program was established in 1961. Volunteers in this Southeast Asian nation work in the areas of education, youth and family development, and coastal resource management. Currently, 259 volunteers are serving in the Philippines. Volunteers are trained and work in the following languages: Aklanon, Bikol-Albay, Bikol-Naga, Cebuano, Hiligaynon, Ibaloi, Ilokano, Kankana-ey Kinaray-a, Pangasinan, Tagalog, and Waray.
About the Peace Corps:
President John F. Kennedy established the Peace Corps on March 1, 1961, by executive order. Throughout 2011, Peace Corps is commemorating 50 years of promoting peace and friendship around the world. Historically, more than 200,000 Americans have served with the Peace Corps to promote a better understanding between Americans and the people of 139 host countries. Today, 8,655 volunteers are working with local communities in 76 host countries. Peace Corps volunteers must be U.S. citizens and at least 18 years of age. Peace Corps service is a 27-month commitment. Visit www.peacecorps.gov for more information.
# # #
---