Peace Corps Volunteers Commemorate Earth Day
April 20, 2012
WASHINGTON, D.C., April 20, 2012 – Peace Corps volunteers worldwide are commemorating Earth Day by teaching people in their local communities to become more environmentally conscious and protect the local ecosystem. Volunteers regularly help communities organize recycling projects and environmental youth clubs, assist with park management, and forest, soil, and marine conservation.

"Peace Corps volunteers lead daily grassroots efforts in their local communities to promote environmental awareness and conservation," said Peace Corps Director Aaron S. Williams. "From organizing community trash cleanups to raising awareness about alternative fuel methods, volunteers find sustainable solutions to address the most critical environmental challenges in 75 countries around the world."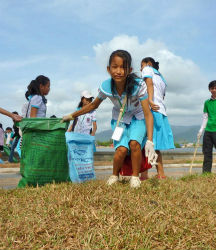 Currently, 13 percent of Peace Corps volunteers work on projects that support environmental education and awareness and 4 percent work on agricultural projects. Most volunteers participate in environment-related projects during the course of their service to help engage local people in ways to protect the environment and conserve natural resources.

Examples of Peace Corps environmental projects worldwide include:

Cambodia: More Than 550 Community Members Participate in Volunteer-Led River Cleanup
Peace Corps volunteers Kaija Bergen of Fort Collins, Colo., and Jenn Ozawa-Hanson and Jake Hanson of Kingston, Wash., organized a community river cleanup in their Southern Cambodian village. More than 550 community members and local students divided into three groups to collect plastic bags, paper, and other litter from a three kilometer (about two mile) stretch of riverbank. Following the event, Peace Corps volunteers Erik Mahan of Great Falls, Va., and Katie Strong of Canandaigua, N.Y., distributed educational materials on the importance of environmental awareness to the cleanup participants and local schools.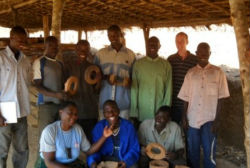 Malawi: Volunteers Introduce Fuel Efficient Cook Stoves to Hundreds of Households and Businesses
Peace Corps volunteers Johannah Murphy of Framingham, Mass., and Brian Smyser of Lancaster, Pa., are working to reduce the impact of deforestation by introducing fuel efficient cook stoves to hundreds of community members. The environmentally friendly stoves not only cut wood consumption in half, but also produce less indoor air pollution, cook food faster and save money. Last summer, Smyser led a15-week training on the use and production of fuel efficient cook stoves with a focus on the stoves as environmental, health and business solutions for sustainable development.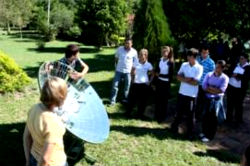 Paraguay: Volunteers Organize Three-Day Climate Change Workshop
Eighteen Peace Corps volunteers worked with Paraguayan community members, partner agencies and Peace Corps staff to organize the first climate change workshop in San Bernardino, Paraguay. Students, teachers, forest rangers and youth leaders came from all across the country to attend the three-day workshop, which was designed to offer a simple introduction to climate change and the local, national and international implications. During the workshop participants attended case study sessions, informational presentations and panel discussions on different topics related to climate change. At the culmination of the workshop, participants created action plans that will be implemented in their local communities.

About the Peace Corps: Since President John F. Kennedy established the Peace Corps by executive order on March 1, 1961, more than 200,000 Americans have served in 139 host countries. Today, 9,095 volunteers are working with local communities in 75 host countries. Peace Corps volunteers must be U.S. citizens and at least 18 years of age. Peace Corps service is a 27-month commitment and the agency's mission is to promote world peace and friendship and a better understanding between Americans and people of other countries. Visit www.peacecorps.gov for more information.