FOR IMMEDIATE RELEASE:
Friday, April 22, 2011
Peace Corps Volunteers Commemorate Earth Day
Volunteers engage communities; create sustainable solutions
WASHINGTON, D.C., April 22, 2011 Peace Corps volunteers commemorate Earth Day with local communities by implementing sustainable projects that address some of the worlds most pressing environmental challenges. Today, there are more than 8,600 Peace Corps volunteers who work in 77 countries around the world; 13 percent work on environmental and four percent work on agricultural projects. Many additional Peace Corps volunteers participate in environment-related secondary service projects and help engage local communities in ways to protect the environment and conserve natural resources.
Earth Day is every day at Peace Corps. Volunteers around the world are leaders in community efforts to protect and preserve the environment, said Peace Corps Director Aaron S. Williams. Volunteers develop sustainable solutions, from turning discarded plastic bags and bottles into clothing and schools, to teaching families about solar cooking. They empower communities with the knowledge to make their own choices on how best to use and conserve natural resources.
Peace Corps volunteers work in partnership with host communities to implement projects that address local environmental issues. Watch a
Peace Corps Earth Day video
to learn about volunteers environmentally sustainable projects.
Examples of Peace Corps environmental projects worldwide:
Ghana: Tree Planting and soil conservation initiative
Peace Corps volunteer
Derek Burke
, of Wright, Kan. works with his village in the Volta Region in Ghana on a tree planting and soil conservation initiative. Tree planting helps preserve the soil and helps local communities grow food. Since the project was started by the volunteer, the community has planted 6,000 trees.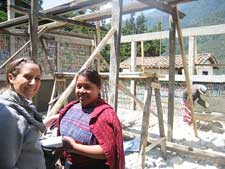 Guatemala: Plastic bottles used to construct classrooms and community centers
Peace Corps volunteer Stefanie Fabrico of Mineola, N.Y., is using discarded soda, water, and plastic bottles to construct her villages first high school, a computer lab, and restroom facility in Guatemala. The
Bottle School
is made by enclosing plastic bottles in chicken-wire frame and covering them with concrete to create walls. This provides a sustainable and cost-effective alternative to traditional construction costs. The bottles, which are filled with plastic bags, food wrappers, aluminum, and Styrofoam discarded in the community, use no cinder blocks and are an environmentally friendly way to reuse thousands of plastic bottles and accumulated trash.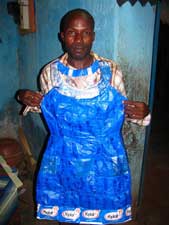 Mali: Discarded snack bags basis for clothes and accessories
Peace Corps volunteer Jessica Duncan of Sugarloaf Key, Fla., works with her community to turn discarded plastic snack bags into clothing and other accessories. The village, which is so littered with plastic bags that locals refer to the bags as the village flower, created a system for local children to collect plastics bags from the streets, wash them, and sell them to a local womens sewing center. The womens center turns the plastic bags into handbags, purses, and other items to sell at the local market. The volunteer partners with a nongovernmental organization to purchase the trash book bags and fills them with school supplies for children.
Mexico: Solar cooking decreases need for wood; helps with deforestation
Sonya Greegor, a recently returned Peace Corps/Mexico volunteer of Boise, Idaho, taught women from 11 communities to use 400 solar cook stoves. Solar cooking not only decreases the need for wood, but helps saves money and time spent collecting wood.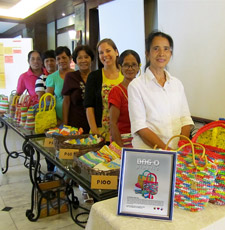 Philippines: Plastic bags fashioned into purses
Peace Corps volunteer Rachael Saler of Norwich, Vt., teaches Filipino women to collect and wash discarded plastic bags to crochet into colorful handbags and change purses. Through the program, women learn to be financially independent and use trash to create sustainable fashion items. Since August 2010, more than 100 women from villages across Negro Island in the Philippines have sold 200 bags, earning 63,000 pesos (about $1,500). If a bag is sold, the woman who makes the bag receives 80 percent of the earnings. The other 20 percent helps to purchase zippers, runners, tags, or other materials.
About the Peace Corps:
President John F. Kennedy established the Peace Corps on March 1, 1961, by executive order. Throughout 2011, Peace Corps is commemorating 50 years of promoting peace and friendship around the world. Historically, more than 200,000 Americans have served with the Peace Corps to promote a better understanding between Americans and the people of 139 host countries. Today, 8,655 volunteers are working with local communities in 77 host countries. Peace Corps volunteers must be U.S. citizens and at least 18 years of age. Peace Corps service is a 27-month commitment. Visit www.peacecorps.gov for more information.
# # #
---