FOR IMMEDIATE RELEASE:
Tuesday, November 25, 2014
Peace Corps Volunteers Celebrate Thanksgiving in Thailand, Reflect on their Service at U.S. Ambassador's Residence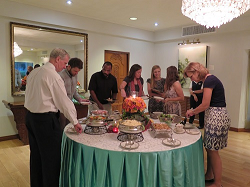 WASHINGTON, D.C., Nov. 25, 2014 – In celebration of Thanksgiving and the end of two years of service, Peace Corps volunteers in Thailand were recently invited to the U.S. Ambassador's residence in Bangkok to enjoy a traditional Thanksgiving dinner with Chargé d'affaires W. Patrick Murphy. While volunteers enjoyed Thanksgiving staples like turkey and mashed potatoes, Murphy thanked the 34 volunteers for their service to the United States and the people of Thailand.
"On behalf of the U.S. mission to Thailand, and with special pride as a returned Peace Corps volunteer, I thank you for your service to the people of Thailand and the United States," Murphy said. "Through your remarkable work, you each might be the only American the vast majority of people in your respective Thai communities will ever know. You are building enduring bonds of friendship that serve both our countries well."
The dinner marked the beginning of the volunteers' close of service conference – their last 90 days of service focused on finalizing their projects and transitioning to life and careers after Peace Corps.
"As difficult as it is to see service end, it's a powerful reminder of the deep relationships we built, the friendships that connects us, and the love that becomes a part of us," said Peace Corps volunteer Carly Collins, a native of Kilgore, Texas, who has been living in Thailand since 2013.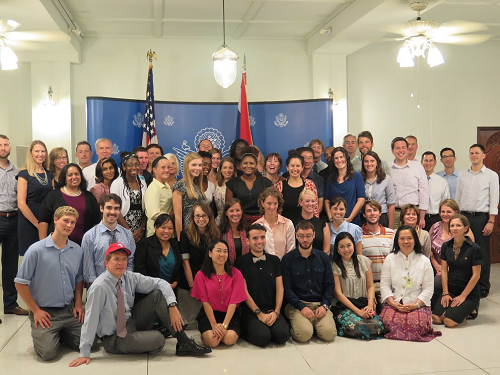 Peace Corps volunteers around the world will celebrate and share the American Thanksgiving tradition with their communities, fellow volunteers and staff this coming week. The holiday presents an opportunity for volunteers to share American culture with their local communities in support of Peace Corps' second goal: to promote a better understanding of Americans on the part of people served.
"With all the challenges volunteers face during these two years, the most difficult one may very well be the goodbyes at the end of it all," said Collins, a graduate of George Mason University.
The 34 volunteers completing their service in Thailand have worked in education and youth development, teaching in classrooms and helping Thai youth develop leadership skills. Throughout the remainder of volunteers' service, the Peace Corps organizes discussions that prepare them to return to life in the U.S. and encourage them to reflect on their experiences and accomplishments.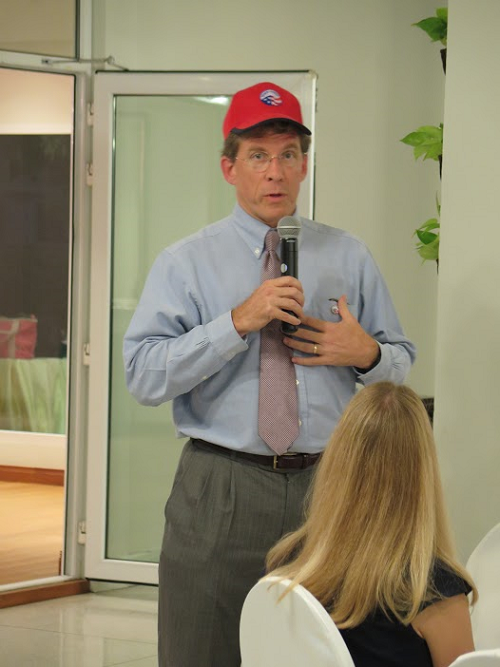 About Peace Corps/Thailand: There are 91 volunteers in Thailand working with their communities on projects in education and youth development. During their service in Thailand, volunteers learn to speak Thai. More than 5,200 Peace Corps volunteers have served in Thailand since the program was established in 1962.
About the Peace Corps: The Peace Corps sends the best and brightest Americans abroad on behalf of the United States to tackle the most pressing needs of people around the world. Volunteers work at the grassroots level to develop sustainable solutions that address challenges in education, health, economic development, agriculture, environment and youth development. Through their service, volunteers gain a unique cultural understanding and a life-long commitment to service that positions them to succeed in today's global economy. Since President John F. Kennedy established the Peace Corps in 1961, nearly 220,000 Americans of all ages have served in 140 countries worldwide. For more information, visit www.peacecorps.gov and follow us on Facebook and Twitter.
# # #
---