FOR IMMEDIATE RELEASE:
Thursday, March 8, 2012
Peace Corps Volunteers Celebrate International Womens Day
WASHINGTON, D.C., March 8, 2012 In commemoration of International Womens Day, Peace Corps volunteers worldwide are engaged in programs and activities to empower women and girls to think beyond traditional gender roles and encourage self confidence.
Peace Corps is proud to recognize the work of volunteers who empower women in their local communities to create small business, continue their education and improve public health, said Peace Corps Director Aaron S. Williams (returned Peace Corps volunteer, Dominican Republic, 1967-1970). Peace Corps volunteers all over the world are working to find creative ways to inspire new generations of women and girls.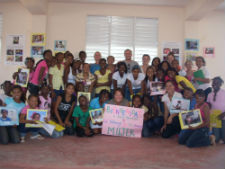 Peace Corps volunteers regularly work with local communities to create womens groups, after-school clubs and camps geared toward women and youth. Volunteers also organize Camp GLOW (Girls Leading Our World) or similar camps that help promote gender equality and empower young women by creating a safe and supportive environment for cultural exchange, individuality, creativity, leadership development, and fun. Since 1995, volunteers in 60 countries have established similar programs to promote the empowerment of women.
The following are highlights of how Peace Corps volunteers support women and girls:
Peace Corps/Dominican Republic:
Forty Peace Corps volunteers have organized 15 events for more than 1,150 women and girls that will commemorate Dominican womens achievements and inspire girls to set goals. Peace Corps volunteers and local women have planned the events, which include a womans day march and mural painting in Santiago, a weekend retreat for girls groups from the South, a museum trip for girls from 10 eastern communities, and conferences.
The celebrations will connect girls with professional women to encourage personal goal setting and healthy decisions. The women will talk about gender equality, gender violence, HIV prevention and celebrate women as role models and mentors. Men and boys will also participate in some of the activities.
Peace Corps/Moldova:
Lindsay McDaniel of Indianapolis, Ind., a community development volunteer works with a domestic violence shelter to improve the shelters direct services, teach better management and organizational skills and train staff and community about domestic violence interventions and prevention strategies. McDaniel also works with the center to introduce new technologies to help improve data collection and processing.
Another secondary project I just recently started is in my role as the Training Director of the Peace Corps program GLOW (Girls Leading Our World), said McDaniel. I will be designing and implementing training seminars and leading interest meeting for the organization as well as helping lead GLOW seminars for young women throughout Moldova.
Peace Corps /Senegal:
In January, more than 100 Peace Corps volunteers from Cape Verde, Guinea, Mali, The Gambia and Senegal met for the 4th Annual West Africa Gender and Development Conference in Thies, Senegal. The conference featured presentations by volunteers from throughout West Africa to discuss topics ranging from working with girls and sports to teaching business classes. Non-governmental organizations also highlighted gender and development programs in other countries, sharing best practices for gender and development projects.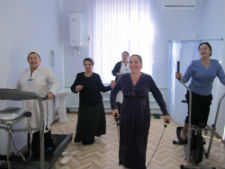 Peace Corps/Turkmenistan:
Community health volunteer Ellyse Gillogley of Sacramento, Calif., is teaching women and teenage girls about proper exercise and nutrition. In January, she and her local hospital opened a fitness center with support from a Small Program Assistance (SPA) grant. Two times a week, Gillogley teaches aerobics and weight exercises. The women have learned how to initiate their own daily workouts at home and are learned to eat a heart-healthy diet.
About the Peace Corps:
Since President John F. Kennedy established the Peace Corps by executive order on March 1, 1961, more than 200,000 Americans have served in 139 host countries. Today, 9,095 volunteers are working with local communities in 75 host countries. Peace Corps volunteers must be U.S. citizens and at least 18 years of age. Peace Corps service is a 27-month commitment and the agencys mission is to promote world peace and friendship and a better understanding between Americans and people of other countries. Visit www.peacecorps.gov for more information.
# # #
---