FOR IMMEDIATE RELEASE:
Friday, April 26, 2013
Peace Corps Volunteers Celebrate Global Youth Service Day
WASHINGTON, D.C., April 26, 2013 – Peace Corps volunteers worldwide commemorate Global Youth Service Day by engaging children, youth and young adults in projects within their communities. Observed April 26 to 28, Global Youth Service Day provides volunteers with an opportunity to involve local youth in activities to foster change and become active members of their communities. Currently, six percent of Peace Corps volunteers work in the youth in development sector as their primary assignment, while another 43 percent of volunteers work in the education sector.
Throughout the year, Peace Corps volunteers work with youth to foster skills for transitioning from school to work, and becoming engaged in their communities. Volunteers also develop extracurricular activities that help local youth build confidence and develop decision-making, communication and leadership skills that promote positive relationships with peers, parents and adults.

See examples of volunteer Global Youth Service Day projects below:

Cameroon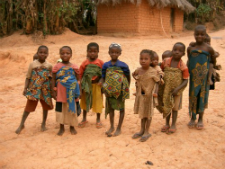 Peace Corps volunteer Shaun Willis is spearheading the "Youth in Action Against Child Trafficking and Exploitation" initiative with fellow volunteers in Cameroon. Once funded, this nationwide sensitization campaign will build awareness and train citizens to identify traffickers. Volunteer educators working in all 10 regions of the country will distribute leaflets and posters in schools and throughout communities.
"The students and other volunteers are very excited and eager to see the project begin," said Willis. "Human trafficking is a known issue, but something that it often seems like nobody ever talks about here. We want to try and change that."
Eventually, Willis hopes the initiative will evolve into an annual event in Cameroon spotlighting the importance of the fight against human trafficking.
Ecuador

Peace Corps volunteer Bryan Parrish is planning a trash collection project in his Ecuadorean community. Currently, trash bags and bottles litter the community's streets and rivers resulting in health, agricultural and sanitation complications. Youth participants will work with Parrish to collect trash throughout the day and will be rewarded with a picnic lunch and pick-up soccer game in the afternoon.
"The village is on track for future development, but the community still suffers from the unmet needs of waste disposal," said Parrish. "This is where we hope to help out."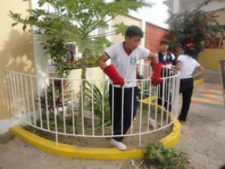 Peace Corps volunteer Peter Frank is working with two local Ecuadorian youth groups to organize an arts festival for the community.
"The festival will consist of three performances, two short plays and a dance performance," said Frank. "The students will use a stage to show dramatizations and theatrical performances about the kinds of work the groups do in the community."
Following the performances the groups will meet with community members and discuss the benefits of their work in the community. Informational booths will also be setup so interested youth can ask group members questions and learn more about becoming involved.
Moldova
Peace Corps volunteers Bob Asadorian and Ethan Clime are organizing a mural and garden project in the local park with 20 youth in their community. The volunteers will work with the youth to convert the old Soviet-era fountains found throughout the park into landscaped gardens and paint murals on the retaining walls.
"Making the park more attractive and usable is a high priority for the community," said Asadorian. "The empty fountains are a danger to young children and often become trash pits. The mural walls will provide a place for youth to express themselves artistically and create a stronger feeling of community ownership."
To learn more about this project on the Global Youth Service Day website, click here.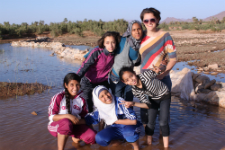 Morocco

Peace Corps volunteers Samantha Ginsburg, Libby Weiler, Chelsea Champkin, Thomas Duncan and Joelle Jackson organized a five-day camp to encourage shy youth in their community to break out of their shell through educational discussions, games, and arts and crafts.
"At the end of the camp each camper led a round of their favorite camp song. Those shy, bashful personalities were no more," said Ginsburg.
Peru
Peace Corps volunteers Alison Foley and Keren Eyal are organizing a workshop for nine youth leaders, aged 11 to 17, in their Peruvian community. During the workshop, the youth will learn about topics including the importance of goal setting and planning for the future. Each youth will also prepare a short Global Youth Service Day skit to present to their peers and the members of the youth groups they lead.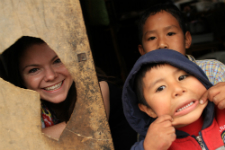 "These young leaders have made incredible improvements in responsibility and leading by example," said Foley. "With their six months of experience in planning and implementing youth groups, will be ready to initiate their own activities in their communities."
Peace Corps volunteer Amanda McCullough is taking her Peruvian youth club to volunteer at the local special education school.
"Many of the members of the club have not had contact with disabled youth in their age range so this is a great opportunity for all of the youth to interact and get to know one another," said McCullough. "My plan is to do divide the youth group into smaller groups and each will teach a short, basic lessons on topics including, hand washing, oral sanitation and cooking. Then hopefully we can get everyone together and play some games."
About the Peace Corps: Since President John F. Kennedy established the Peace Corps by executive order on March 1, 1961, more than 210,000 Americans have served in 139 host countries. Today, 8,073 volunteers are working with local communities in 76 host countries in agriculture, community economic development, education, environment, health and youth in development. Peace Corps volunteers must be U.S. citizens and at least 18 years of age. Peace Corps service is a 27-month commitment and the agency's mission is to promote world peace and friendship and a better understanding between Americans and people of other countries. Visit www.peacecorps.gov for more information.
# # #
---