FOR IMMEDIATE RELEASE:
Friday, April 20, 2012
Peace Corps Volunteers Celebrate Global Youth Service Day
WASHINGTON, D.C., April 20, 2012 – Peace Corps volunteers worldwide commemorate Global Youth Service Day by working with children, youth and young adults to be more active citizens in their communities. This year, many volunteers are using Global Youth Service Day activities to promote environmental awareness on Earth Day.

Observed April 20 to 22, Global Youth Service Day provides volunteers with an opportunity to engage youth and local community members in long-term service projects. For more than 10 years, Peace Corps volunteers and their community partners have celebrated Global Youth Service Day and Earth Day through various activities.

Throughout the year, Peace Corps volunteers work with youth to foster skills for transitioning from school to work, and becoming engaged in their communities. Volunteers also develop extracurricular activities that help local youth build confidence and develop decision-making, communication and leadership skills that promote positive relationships with peers, parents and adults.

Five percent of Peace Corps volunteers work in the youth in community development sector as their primary assignment, while another 40 percent of volunteers work in the education sector.

Examples of Peace Corps Youth Projects: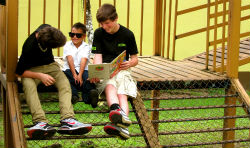 Costa Rica:
Peace Corps volunteers Kevin Klott and Megon Coon of Anchorage, Alaska, organized a four-day cross cultural home stay in their rural Costa Rican village for 12 8th-grade students from North Carolina. Each visiting student was matched with a Costa Rican host family and contributed to everyday household chores and events. The students also participated in cross cultural activities, such as reading to students in Spanish, eating traditional Costa Rican foods, learning traditional dances, and discussing different customs and traditions found in the United States. Additionally, the students built a trail system behind the village elementary school which is now utilized by local students, teachers and community members on a daily basis.

"During the exchange, the students and community members gained invaluable cultural insight and formed relationships that help shape the way they see the world," said Klott, a graduate of The University of Alaska Anchorage.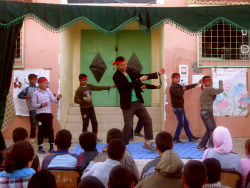 Morocco:
Peace Corps volunteer Joseph Saei of Knoxville, Tenn., helped facilitate a month-long series of youth-led workshops on painting, theater, dance and music for 75 youth in his Southeastern Moroccan village. The series took place at the local youth center and was organized, monitored and implemented by Saei and a team of 15 local high school students. During the last weekend of the series, the participants put on a final presentation for their families and community members to showcase the new skills learned throughout the month.

"During the final presentation, the youth were able to celebrate their accomplishments and demonstrate how creative they can be when given the chance to express themselves," said Saei, a graduate of College of Charleston.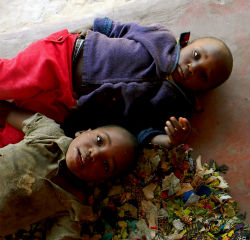 Zambia:
Peace Corps volunteer Natalie Neft of Auburn, Calif., is working with members of her rural community to open a local preschool for 20 children. The community has donated a vacant building to be renovated into a classroom area complete with learning materials, supplies and toys. Two community members with previous educational experience have undergone training to teach at the preschool and will help the youth acquire developmental skills necessary to succeed in primary school.

"Currently, there is a 50 percent first grade dropout rate in my community because youth lack the basic foundational and educational skills learned in preschool," said Neft, a graduate of University of California, Santa Cruz. "The new preschool will provide youth with the tools they need to build their social, emotional, and educational skills."

About the Peace Corps: Since President John F. Kennedy established the Peace Corps by executive order on March 1, 1961, more than 200,000 Americans have served in 139 host countries. Today, 9,095 volunteers are working with local communities in 75 host countries. Peace Corps volunteers must be U.S. citizens and at least 18 years of age. Peace Corps service is a 27-month commitment and the agency's mission is to promote world peace and friendship and a better understanding between Americans and people of other countries. Visit www.peacecorps.gov for more information.
# # #
---