FOR IMMEDIATE RELEASE:
Wednesday, August 29, 2012
Peace Corps Volunteers Build Solar-Powered Computer Lab in Guyanese School
WASHINGTON D.C., August 30, 2012 - Peace Corps volunteers Harmony Hill and Travis Weber of Los Angeles, Calif., are working with their Guyanese community to build a solar-powered computer lab in the local primary school that will provide nearly 300 students and community members access to computers and technical training sessions. The computer lab will also allow local residents to expand communication and trade with other communities. A portion of the funds for the computer lab are being raised through the Peace Corps Partnership Program (PCPP), a program that supports Peace Corps volunteer community projects worldwide.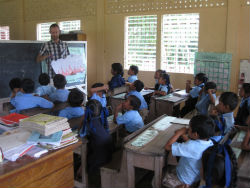 "The community has concluded that basic computer knowledge and understanding are vital to the future success of the village," explained Hill, a Pepperdine University graduate who has been living and working with her husband in Guyana since February 2011. "Having a computer lab will not only benefit the primary school students in the village, but it will also provide computer access to the entire community, including secondary students and adults."
"There are few opportunities in the region for employment, and basic computer knowledge will certainly help those looking for jobs," added Weber.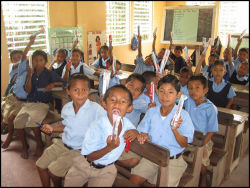 The PCPP funds will be used to purchase the computers, printers and a projector. Local community members will contribute the time and labor necessary for the installation of the computer lab as well as training sessions allowing community members to learn how to use computers. In order to receive funding through the PCPP, a community must make a 25 percent contribution to the total project cost and outline success indicators for the individual projects. This helps ensure community ownership and a greater chance of long-term sustainability.
"In the beginning the training sessions will be led by my wife and me," continued Weber. "Only two people in the village have experience working with computers. Everyone is excited to learn how to use them and we expect that within two to three months teachers will be able to facilitate classes using various computer programs."
One hundred percent of each tax-deductible PCPP donation goes toward a development project. Those interested in supporting the computer lab project in Guyana can visit: www.peacecorps.gov/donate. The project number is: 504-030.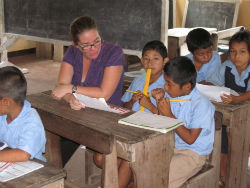 About Peace Corps/Guyana: More than 630 Peace Corps volunteers have served in Guyana since the program was established in 1967. Currently, 62 volunteers serve in Guyana. Volunteers work in the areas of education and health. Volunteers are trained and work in English and receive some training in Creolese.

About the Peace Corps: Since President John F. Kennedy established the Peace Corps by executive order on March 1, 1961, more than 200,000 Americans have served in 139 host countries. Today, 9,095 volunteers are working with local communities in 75 host countries. Peace Corps volunteers must be U.S. citizens and at least 18 years of age. Peace Corps service is a 27-month commitment and the agency's mission is to promote world peace and friendship and a better understanding between Americans and people of other countries. Visit www.peacecorps.gov for more information.
# # #
---