FOR IMMEDIATE RELEASE:
Wednesday, July 9, 2014
Peace Corps Volunteers Bike Across Togo to Train Community Health Workers
WASHINGTON, D.C., July 9, 2014 – Peace Corps volunteer Katherine Ku of Fair Oaks, Calif., recently worked with fellow volunteers and community members in Togo to organize two educational bike tours across six villages to train community health workers on diet, hygiene and sanitation practices. Throughout two week-long tours, the volunteers and their Togolese counterparts biked more than 200 miles and trained more than 50 health workers across Togo.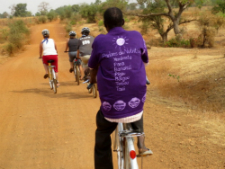 Training focused on using locally available and affordable foods to prepare nutritious meals close to home, and identifying and rehabilitating malnourished children through behavior change. Each stop included a demonstration on how to prepare enriched porridge with ingredients from each of the villages the group visited. For each season, participants identified what foods were available at their market and were financially accessible. They also learned how to weigh children using a standard scale, how to plan a 12-day rehabilitation program, and food conservation methods.
"The goal of the project is to show that despite poverty, if there is access to certain foods year-round, any woman can raise a healthy child," Ku said.
At the end of the training, the participants developed an action plan to contact and train women with malnourished children in their community. Of the 23 health workers trained during the first tour, 10 have already replicated the training in their communities, helping more than 40 children.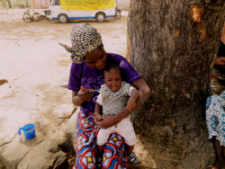 On the first tour, Ku was joined by fellow Peace Corps volunteers Winter Heath of Littleton, N.H.; Ana Sigler of Tallmadge, Ohio; Amelia Arnold of Auburn, Calif.; Heather East of Parker, Colo.; and Chelsea Clarke of Cummaquid, Mass.; along with five local community members. On the second tour, Ku, Arnold, and East were joined by Peace Corps volunteers Andrew Menefee of Montgomery, Ala.; Kristina Thomsen of Pleasant Valley, N.Y.; Daniella Cazares of Lucerne, Calif.; and four local community members.
Ku and her fellow volunteers are already looking forward to coordinating the next tour.
"I would like to see the tour expand to villages farther south, so that we can cover even more of the region," Ku said.
About Peace Corps/Togo: There are currently 84 volunteers in Togo working in the areas of education, environment and health. During their service in Togo, volunteers learn to speak the local languages, including: Bassar, Ewe, Haoussa, Kabiyé, Kotokoli, Mina and Moba. More than 2,760 Peace Corps volunteers have served in Togo since the program was established in 1962.
About the Peace Corps: As the preeminent international service organization of the United States, the Peace Corps sends Americans abroad to tackle the most pressing needs of people around the world. Peace Corps volunteers work at the grassroots level with local governments, schools, communities, small businesses and entrepreneurs to develop sustainable solutions that address challenges in education, health, economic development, agriculture, environment and youth development. When they return home, volunteers bring their knowledge and experiences – and a global outlook – back to the United States that enriches the lives of those around them. President John F. Kennedy established the Peace Corps in 1961 to foster a better understanding among Americans and people of other countries. Since then, more than 215,000 Americans of all ages have served in 139 countries worldwide. Visit www.peacecorps.gov to learn more.
# # #
---