FOR IMMEDIATE RELEASE:
Friday, September 12, 2014
Peace Corps Volunteers Begin 150-Mile Run to Educate Ethiopians about HIV/AIDS
Twenty Peace Corps Ethiopia volunteers set out on seven-day journey
WASHINGTON, D.C, Sept. 12, 2014 – Beginning today, 20 Peace Corps volunteers in Ethiopia are embarking on a 150-mile run (242 km) across the country's Tigray Region to educate community members about the causes, prevention and treatment of HIV/AIDS and raise money for awareness efforts. Throughout the seven-day journey – called the Tigray Trek – volunteers are partnering with local organizations to lead a total of nine educational sessions and empower youth to take action by continuing HIV/AIDS education in their communities.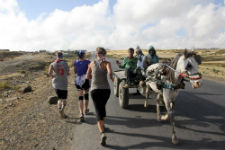 "I am immensely proud of the 20 Peace Corps volunteers who are putting themselves to what might be the toughest physical test of their lives – a 242 km run through Tigray – to raise awareness about HIV/AIDS in collaboration with the local Ethiopian communities along their route," U.S. Ambassador to Ethiopia Patricia M. Haslach said. "Their dedication and stamina in support of Ethiopia and its people and Peace Corps' mission – to promote world peace and friendship – are truly impressive."
The trek will begin in Atsbi, a town on the northeastern border of the Tigray Region, and will conclude in Korem, a town near the southernmost point of the border. Volunteers have been working with community members and local health workers in towns along their route to develop educational sessions best suited for each community.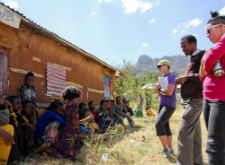 "We hope to build up the knowledge and capacity of our Ethiopian friends so they can lead their communities into a future of zero HIV births, zero deaths from AIDS and zero discrimination," said Elizabeth Pelz, who has been serving in Ethiopia since 2012 and organized this year's Tigray Trek.
Five Peace Corps volunteers completed the first Tigray Trek in 2013 and educated nearly 530 community members in nine villages along the way. Their success and local community support led the volunteers to organize this year's trek, which has grown to include 15 additional runners and 12 additional volunteers to help lead educational sessions.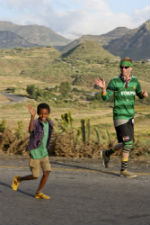 "It's very exciting that Peace Corps volunteers and their Ethiopian colleagues and collaborators are enthusiastic about continuing the tradition of reaching out to communities through an activity in which Ethiopia excels: running," Peace Corps/Ethiopia Country Director Greg Engle said.
Peace Corps volunteers play a key role in combating HIV/AIDS through programs in more than 60 posts worldwide and help to advance the mission of the U.S. President's Emergency Plan for AIDS Relief (PEPFAR). The Peace Corps trains all volunteers who serve in Africa, the Caribbean, Eastern Europe, and Central Asia to be advocates and educators of HIV/AIDS prevention and care. The language and cultural training that Peace Corps volunteers receive during their service uniquely positions them to play an essential role in the fight against HIV/AIDS.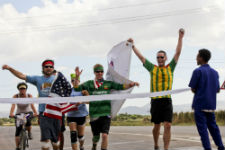 "This is going to be one of the most difficult things any of us ever does," said Sally Kintner, who has been serving in Ethiopia since 2012 and also participated in the 2013 Tigray Trek. "We hope that our visibility will help gather people and inspire them to listen to this important message."
Peace Corps volunteers and staff will use social media to promote the trek throughout the week. Follow the runners' progress on Facebook and Twitter. To request an interview with a participating volunteer, email [email protected].
About Peace Corps/Ethiopia: There are currently 201 volunteers in Ethiopia working in the areas of education, health, agriculture and environment. During their service in Ethiopia, volunteers learn to speak the local languages, including: Amharic, Oromifa and Tigrinya. More than 3,355 Peace Corps volunteers have served in Ethiopia since the program was established in 1962.
About the Peace Corps: As the preeminent international service organization of the United States, the Peace Corps sends Americans abroad to tackle the most pressing needs of people around the world. Peace Corps volunteers work at the grassroots level with local governments, schools, communities, small businesses and entrepreneurs to develop sustainable solutions that address challenges in education, health, economic development, agriculture, environment and youth development. When they return home, volunteers bring their knowledge and experiences—and a global outlook—back to the United States that enriches the lives of those around them. President John F. Kennedy established the Peace Corps in 1961 to foster a better understanding among Americans and people of other countries. Since then, more than 215,000 Americans of all ages have served in 139 countries worldwide. Visit www.peacecorps.gov to learn more.
# # #
---