FOR IMMEDIATE RELEASE:
Wednesday, July 2, 2014
Peace Corps Volunteer Works with Beekeepers in Ghana to Generate Sustainable Income through Honey Sales
WASHINGTON, D.C., July 2, 2014 – Peace Corps volunteer Molly Rooney of Bloomfield Hills, Mich., is working with a group of beekeepers in Ghana to expand honey production and generate local income by introducing others to the beekeeping trade. At weekly meetings, Rooney and the ten group members are planning a beekeeping training session for fellow community members.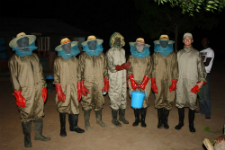 "Through the training, we hope to teach community members about establishing bee colonies and sustainable harvesting practices," said Rooney, a graduate of Michigan State University who has been living in Ghana since 2012. "Eventually, we'd like to produce enough honey to provide some to the school-feeding program at the local primary school, which contributes to childhood nutrition within the community."
The group originally formed as a way for the participants to discuss practices they know are important to successful beekeeping. Now, they meet every Friday to learn more about specific beekeeping topics so the members can train others and have a sustainable and long-term impact on their community.
The beekeepers have also started harvesting their honey communally, which has allowed them to market their product to large-scale buyers. Already their collaboration has attracted a serious local honey buyer.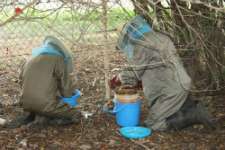 To support their community training, the group hopes to purchase 40 removable comb-hives as well as materials to make their harvesting efforts sustainable and safe for both the bees and the beekeepers. The Peace Corps Partnership Program (PCPP), which supports Peace Corps volunteer community projects worldwide, is helping to fund the resources needed for the project. In order to receive funding through the PCPP, a community must make at least a 25 percent contribution to the total project cost and outline success indicators for each project. This helps to ensure community ownership and a greater chance of long-term sustainability.
"The members have proposed replicating the training, so the group can continue to grow, increase its training capacity, and expand an important agricultural and income-generating effort in the community," Rooney said. "Everyone is very positive about their hopes for the project."
To support Rooney's project in Ghana, visit www.peacecorps.gov/donate. Her project number is: 14-641-009.
About the Peace Corps/Ghana: There are currently 143 Volunteers in Ghana working in the areas of education, agriculture and health. During their service in Ghana, Volunteers learn to speak the local languages, including: Buli, Dagaare, Dagbani, Dangme, Ewe, Fanté, Ga, Ghanaian Sign Language, Gonja, Guruni, Hausa, Kasem, Kusaal, Likipakpaalu, Likpakpaln, Mampruli, Nzema, Sisaali, Taleni, Twi and Waale. More than 4,360 Peace Corps Volunteers have served in Ghana since the program was established in 1961.
About the Peace Corps: As the preeminent international service organization of the United States, the Peace Corps sends Americans abroad to tackle the most pressing needs of people around the world. Peace Corps volunteers work at the grassroots level with local governments, schools, communities, small businesses and entrepreneurs to develop sustainable solutions that address challenges in education, health, economic development, agriculture, environment and youth development. When they return home, volunteers bring their knowledge and experiences—and a global outlook—back to the United States that enriches the lives of those around them. President John F. Kennedy established the Peace Corps in 1961 to foster a better understanding among Americans and people of other countries. Since then, more than 215,000 Americans of all ages have served in 139 countries worldwide. Visit www.peacecorps.gov to learn more.
# # #
---