FOR IMMEDIATE RELEASE:
Thursday, June 13, 2013
Peace Corps Volunteer Works to Improve Sanitation and Prevent Disease in Botswana
Washington, D.C., June 13, 2013 - Peace Corps volunteer Brandon Lawson of Springfield, Mo., is working to improve sanitation and health in his community in Botswana by constructing new facilities for safe, effective waste disposal that will prevent water contamination and disease. Lawson aims to build nearly 200 pit latrines -- one for each family home in the community.
"In the first few months of my service, I immediately saw a need for sanitation," said Lawson, a graduate of Drury University who has been in Botswana since 2011. "The local chief told me about children commonly dying from diarrhea, cholera and tuberculosis because of unsanitary conditions and water contamination."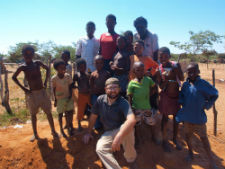 Currently, there are only two water pipes and two pit latrines in a community of 3,000 residents where nearly two tons of uncontained human waste is deposited each week.
Lawson has been collaborating with local government officials and community leaders for more than a year to develop plans to build the facilities in an environmentally friendly manner. Prior to the start of construction, a representative from each household will be required to agree to dig the pit for the latrine and take their family to sanitation and disease prevention classes provided by the District Sanitation Education Office. The District Health Team will travel to the community once the latrines are completed to provide tuberculosis education.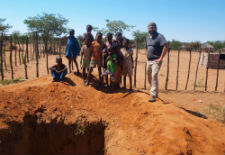 Made up almost exclusively of members of an ancient tribe, the community was relocated from a national park in Botswana's Kalahari Desert, and has since faced significant challenges adjusting to a new living environment that has greatly impacted residents' health.

"A 2010 study completed in Peru found that once pit latrines were placed in family compounds, diarrhea rates and deaths were reduced by half," Lawson said.
A portion of funds for Lawson's project were raised through the Peace Corps Partnership Program (PCPP), which helps support Peace Corps volunteer community projects worldwide. In order to receive funding through the PCPP, a community must make a 25 percent contribution to the total project cost and outline success indicators for each project. This helps to ensure community ownership and a greater chance of long-term sustainability.
About Peace Corps/Botswana: More than 2,310 Peace Corps volunteers have served in Botswana since the program was established in 1966. Currently, 144 volunteers serve in Botswana. Volunteers work to address HIV/AIDS in the areas of health, community development and education. Volunteers are trained and work in Setswana and Ikalanga.
About the Peace Corps: Since President John F. Kennedy established the Peace Corps by executive order on March 1, 1961, more than 210,000 Americans have served in 139 host countries. Today, 8,073 volunteers are working with local communities in 76 host countries in agriculture, community economic development, education, environment, health and youth in development. Peace Corps volunteers must be U.S. citizens and at least 18 years of age. Peace Corps service is a 27-month commitment and the agency's mission is to promote world peace and friendship and a better understanding between Americans and people of other countries. Visit www.peacecorps.gov for more information.
# # #
---