FOR IMMEDIATE RELEASE:
Thursday, September 4, 2014
Peace Corps Volunteer Uses Field Hockey to Empower Girls in Uganda
WASHINGTON, DC September 4, 2014 – Peace Corps volunteer Lindsay Carrera of Hartland, Wisconsin, is empowering local Ugandan girls and improving their health through sports. Since June, Carrera has been working with 30 secondary school students ages 12-14 to form the region's first female field hockey teams.
"I played field hockey in junior high and high school, and my best memories are the unlikely friendships and sense of community and pride that came along with being on a strong team," said Carrera, a graduate of the University of Wisconsin-Madison who has been living in Uganda since 2013. "I created the field hockey teams with the hope of inspiring some confidence and capacity in the young girls of my rural region."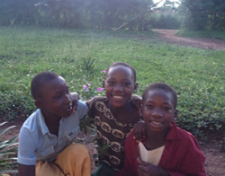 Carrera has witnessed the harmful effects of gender inequality throughout her service in Uganda, which rates in the bottom 40 percent on the United Nations Gender Inequality Index and many young girls abandon their education once they reach their teenage years.
Along with a fellow teacher, Carrera will coach team practices, which will incorporate educational sessions on gender-based violence and its causes and cyclical nature. By involving a Ugandan counterpart who is also passionate about gender equality, Carrera hopes the project will continue after she completes her service.
"By forming these field hockey teams, I am hoping to get the message to these girls that they have a future, and even if they don't all become Olympians, they were a part of something special," Carrera said. "Down the road, I want to incorporate the whole town in a dialogue about gender stereotypes in Ugandan culture."
Carrera has already gained sponsorship from several prominent U.K. sports equipment manufacturers and has received 20 donated sticks and a dozen balls to start training. She also received a grant from a U.S.-based nonprofit organization to cover the teams' startup costs.
About Peace Corps/Uganda: There are currently 137 volunteers in Uganda working in the areas of health, education and community economic development. During their service in Uganda, volunteers learn to speak the local languages, including: Ateso, Dhopadhola, Luganda, Lugwere, Lumasaaba, Lusoga, Runyakore, Runyole, Runyoro-Rutoro and Uhopadhola. More than 1,305 Peace Corps volunteers have served in Uganda since the program was established in 1964.
About the Peace Corps: As the preeminent international service organization of the United States, the Peace Corps sends Americans abroad to tackle the most pressing needs of people around the world. Peace Corps volunteers work at the grassroots level with local governments, schools, communities, small businesses and entrepreneurs to develop sustainable solutions that address challenges in education, health, economic development, agriculture, environment and youth development. When they return home, volunteers bring their knowledge and experiences – and a global outlook – back to the United States that enriches the lives of those around them. President John F. Kennedy established the Peace Corps in 1961 to foster a better understanding among Americans and people of other countries. Since then, more than 215,000 Americans of all ages have served in 139 countries worldwide. Visit www.peacecorps.gov to learn more.
# # #
---