FOR IMMEDIATE RELEASE:
Monday, January 14, 2013
Peace Corps Volunteer to Publish First Comprehensive Kyrgyz-English Dictionary
New translations will help Kyrgyz communities, business people and tourists
WASHINGTON, D.C., January 14, 2013 – Peace Corps volunteer Willoughby Ann Walshe of Seattle, Wash., is preparing to publish the first comprehensive Kyrgyz-English dictionary to ever be printed in the nation.
When she started teaching English at a secondary school in a small village near the capitol city, Bishkek, Walshe discovered her students didn't have a dictionary to make translations from their native language into English.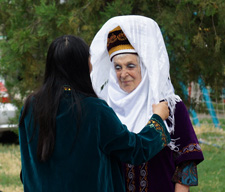 "Students and teachers only had Russian-English dictionaries available as a resource for learning the English language," said Walshe, age 75. "Although most Kyrgyz people know how to speak Russian, it meant they had to translate words twice, from Kyrgyz to Russian and from Russian to English, in order to find the English meaning. The time and work involved deters motivation."
With more than 30 years of experience in the publishing and translation industry, Walshe accepted the challenge to better educate her students. She found that a few Kyrgyz-English dictionaries had been published during the last decade, but those generally provided only English-to-Kyrgyz translation — and they were all out of print. She turned to the concise Kyrgyz-English dictionary she received upon arriving in Kyrgyzstan and contacted its author, Baktybek Kurmanakunov, Dean of the Faculty of Foreign Languages and English teacher at Jalal-Abad State University. "When I contacted Baktybek I found out that he's been compiling a comprehensive English-Kyrgyz/Kyrgyz-English dictionary comprising around 80,000 terms and phrases."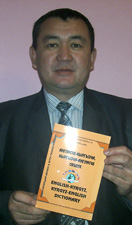 Using these terms and phrases as a base, Walshe and Kurmanakunov are working together to publish and distribute a comprehensive English-Kyrgyz/Kyrgyz-English dictionary to be used by students, community members and tourists.
"Kyrgyz community members in all walks of life — students, teachers, parents, adults, business people — are interested in learning English to enhance their opportunities for finding lucrative jobs and for travel purposes. The dictionary will help them learn to read and write English texts as well as use correct spelling, grammar and pronunciation," Walshe said. The dictionary will help English-speaking people living in Kyrgyzstan integrate better into the culture by learning the Kyrgyz language." Walshe and Baktybek appointed a team of language professors associated with Peace Corps to review the current lists of words. Once edits are made, the dictionary will be printed and is expected to be available for use in hard-copy form by spring 2013.
"We envision the dictionary eventually being used by every student, teacher, business person and tourist facility in the country," said Walshe.
About Peace Corps/ Kyrgyzstan: More than 980 Peace Corps volunteers have served in the Kyrgyz Republic since the program was established in 1993. Currently, 80 volunteers serve in the Kyrgyz Republic. Volunteers work in the areas of education, community development, business development and health. Volunteers are trained and work in Kyrgyz and Russian.
About the Peace Corps: Since President John F. Kennedy established the Peace Corps by executive order on March 1, 1961, more than 210,000 Americans have served in 139 host countries. Today, 8,073 volunteers are working with local communities in 76 host countries in agriculture, community economic development, education, environment, health and youth in development. Peace Corps volunteers must be U.S. citizens and at least 18 years of age. Peace Corps service is a 27-month commitment and the agency's mission is to promote world peace and friendship and a better understanding between Americans and people of other countries. Visit www.peacecorps.gov for more information.
# # #
---