FOR IMMEDIATE RELEASE:
Thursday, January 10, 2013
Peace Corps Volunteer Teaches Women Computer Skills
Washington, D.C., January 10, 2013 - Peace Corps volunteer Willow Denker of Ashland, Ore., is helping seven women from across Vanuatu learn computer skills.
Early in her service Denker noticed there weren't computers available for public use on the island. After a local development committee meeting, the committee secretary approached Denker and asked if she could teach her basic computer skills. "The secretary of the committee had been taking meeting notes each week by hand, sometimes for two or three hours," Denker said. "After this particular meeting she asked me to help her learn how to type and use a computer so that she could type the minutes. I said yes, of course!"
Soon more women became interested in the idea of having access to a computer and learning computer skills. With help from Denker they formed the "Mama's Computer Group." The seven group members now meet to learn computer skills from Denker and hold fundraising events so they can purchase additional computer equipment and attend more advanced computer skills classes.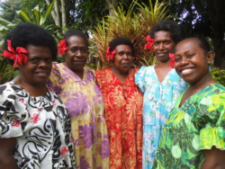 Denker says her main motivation for helping the women learn to type and use computers comes from the encouragement and inspiration they give her. "I continue to be inspired by how hard they work and how dedicated they are to the livelihood and well-being of their families and communities."
With help from the Peace Corps Partnership Program (PCPP), the group recently raised enough money to attend a 20-hour typing class in preparation for a teaching seminar they plan to hold for interested community members. Local organizations and Peace Corps volunteers will help the women finance the seminar and ensure they have the necessary equipment.
"I believe that the upcoming typing class will allow the women to learn the skills they need and teach those skills to others," said Denker, a graduate of University of Colorado Boulder who has been living and working in Vanuatu since October 2011. "The essence of the Mama's Computer Group is honoring women and their hard work, and offering ways to build their capacity so that they can support community projects and improve their lives."
About Peace Corps/Vanuatu: More than 605 Peace Corps volunteers have served in Vanuatu since the program was established in 1990. Currently, 65 volunteers serve in Vanuatu. Volunteers work in the areas of education, business and health. Volunteers are trained and work in French and Bislama.
About the Peace Corps: Since President John F. Kennedy established the Peace Corps by executive order on March 1, 1961, more than 210,000 Americans have served in 139 host countries. Today, 8,073 volunteers are working with local communities in 76 host countries in agriculture, community economic development, education, environment, health and youth in development. Peace Corps volunteers must be U.S. citizens and at least 18 years of age. Peace Corps service is a 27-month commitment and the agency's mission is to promote world peace and friendship and a better understanding between Americans and people of other countries. Visit www.peacecorps.gov for more information.
# # #
---