FOR IMMEDIATE RELEASE:
Friday, February 1, 2013
Peace Corps Volunteer Teaches Ugandan Youth Business and Life Skills
WASHINGTON, D.C., February 1, 2013 – Peace Corps volunteer Matthew Boddie of Sparta, N.C. has been working with students in his Ugandan community on a hammock business to teach them life skills and help raise money for them for school fees.
Boddie and his Ugandan counterpart founded Ngora Parish Harmack Company in February 2011 to teach business skills and the fundamentals of microfinance to local youth. As the business has grown, Boddie has been teaching practical business skills by having the youth to manage the company's profits.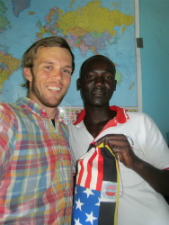 "Our first hammock was made out of three grain sacks sewn together, with goat rope as harnesses at the end," said Boddie, a graduate of the University of North Carolina at Chapel Hill. "Just this past week, we sold 37 hammocks to a retail store, a parish priest, and directly through word of mouth contacts."
Not only are they running a profitable business, Boddie's students are also meeting a need in the community for affordable beds, especially for children under the ages of 5.Children who sleep on the floor without a bed and a mosquito net are at especially high risk for malaria and other illnesses. Ngora Parish Harmack Company uses excess material to make hammocks with built-in mosquito nets and sells them at a reduced price.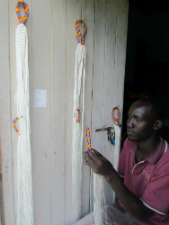 They also sell the hammocks to local clinics that face bed shortages. In the two years, they have sold almost 500 hammocks, sending seven young people off to a full year's education, and one student was even able to purchase a laptop for his college education. "Seeing these kids who I have worked with develop their own hammocks and their own labels is one of the greatest feelings I have ever experienced. I'm bursting with pride over the success of these kids," said Boddie.
About Peace Corps/Uganda: More than 1,220 Peace Corps volunteers have served in Uganda since the program was established in 1964. Currently, 143 volunteers serve in Uganda. Volunteers work in the areas of health, education and community economic development. Volunteers are trained and work in the following languages: Ateso, Dhopadhola, Luganda, Lugwere, Lumasaaba, Lusoga, Runyakore, Runyole, Runyoro-Rutoro and Uhopadhola.
About the Peace Corps: Since President John F. Kennedy established the Peace Corps by executive order on March 1, 1961, more than 210,000 Americans have served in 139 host countries. Today, 8,073 volunteers are working with local communities in 76 host countries in agriculture, community economic development, education, environment, health and youth in development. Peace Corps volunteers must be U.S. citizens and at least 18 years of age. Peace Corps service is a 27-month commitment and the agency's mission is to promote world peace and friendship and a better understanding between Americans and people of other countries. Visit www.peacecorps.gov for more information.
# # #
---