FOR IMMEDIATE RELEASE:
Wednesday, March 21, 2012
Peace Corps Volunteer Teaches Students to Make Bread; Generate Income in Uganda
WASHINGTON, D.C., March 21, 2012 Peace Corps volunteer Siong Ng of Leawood, Kansas, recently spent two months teaching three teachers and 30 female students how to make bread to generate income for their community.
We intend to be self-sufficient after the first school term by supporting the baking program with revenue from the sale of baked goods. Of course, we cannot bake bread without an oven. On one of the field trips to a bakery store, we saw an unused wood-fire oven and convinced the owner to donate it to our school. She did and that was the rest of the happy story, said Ng, 62, who has been working as an education volunteer since February 2010. Ng was previously a Peace Corps volunteer in Mexico for three years where he worked with business owners to improve their operations.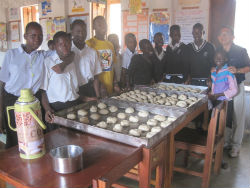 In January, Ng started the baking program, which is held every Thursday for both teachers and students from a local primary school. Later in the year, they intend to increase the trainings to two-to three-times a week. The most recent training in early March yielded six loaves of bread and more than 100 dinner rolls. Ng taught students business skills and helped them to sell half their baked goods to the local community.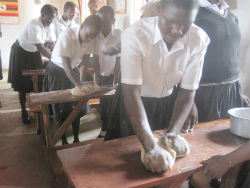 Peace Corps volunteers strengthen and encourage economic opportunities in local communities by providing basic business and financial management training for small businesses, and helping artisans market goods and products. Volunteers also teach computer and multimedia skills, develop database systems, and implement business networks to help communities plan for the future. Today, 14 percent of Peace Corps volunteers work in the business sector.
About Peace Corps/Uganda:
More than 1,170 Peace Corps volunteers have served in Uganda since the program was established in 1964. Currently, 179 volunteers serve in Uganda. Volunteers work in the areas of health, education and community economic development. Volunteers are trained and work in the following languages: Acholi, Alur, Ateso, Dhopadhola, Jopadhola Luganda, Lugbara, Lugwere, Lumasaaba, Lusoga, Runyakore, Runyole, and Runyoro-Rutoro.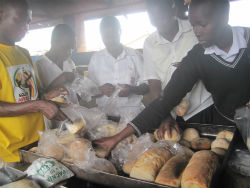 About the Peace Corps:
Since President John F. Kennedy established the Peace Corps by executive order on March 1, 1961, more than 200,000 Americans have served in 139 host countries. Today, 9,095 volunteers are working with local communities in 75 host countries. Peace Corps volunteers must be U.S. citizens and at least 18 years of age. Peace Corps service is a 27-month commitment and the agencys mission is to promote world peace and friendship and a better understanding between Americans and people of other countries. Visit www.peacecorps.gov for more information.
# # #
---