FOR IMMEDIATE RELEASE:
Monday, December 10, 2012
Peace Corps Volunteer Teaches Students about Health Through Sports
Washington, D.C., December 10, 2012 - Peace Corps volunteer Thomas Reade of New Orleans, La., is using sports to teach youth in his community about healthy lifestyle choices. The initiative utilizes soccer, the most popular sport in Moldova, as a way to get students active and excited to learn about health.
"The topics addressed during practice will range from HIV/AIDS awareness to exercise and healthy lifestyle choices," said Reade, who has been living and working in Moldova since 2011. "All of these issues are currently taught in the schools to varying degrees, but a secondary goal of this project is to show the power of learning through active participation."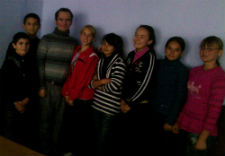 Reade is working with community members to convert a large grassy area into a small-scale soccer field as a space to conduct practice. A portion of the funds for the project will be raised through the Peace Corps Partnership Program (PCPP), a program that helps support Peace Corps volunteer community projects worldwide.
"During practice each drill, like running cones, will be turned into a teaching tool," explained Reade, an Arizona State University graduate. "For example, each cone could symbolize a 'risk field' and the players will be instructed to run around the 'risks'."
Reade is in the process of writing manuals in Romanian with diagrams that will aide in creating lesson plans within the program.
In order to receive funding through the PCPP, a community must make a 25 percent contribution to the total project cost and outline success indicators for the individual projects. This helps ensure community ownership and a greater chance of long-term sustainability. Reade's community is working to build the perimeter and foundation of the soccer field that will otherwise be funded with help from local organizations. Several community partners have already contributed to funding, but small contributions would help to complete the groundwork.
One hundred percent of each tax-deductible PCPP donation goes toward a development project. Those interested in supporting Reade's project in Moldova can visit: www.peacecorps.gov/donate. Reade's project number is: 261-226
About Peace Corps/Moldova: More than 1,150 Peace Corps volunteers have served in Moldova since the program was established in 1993. Currently, about 110 volunteers serve in Moldova. Volunteers work in the areas of English education, health, business development, and community development. Volunteers are trained and work in Romanian and Russian.

About the Peace Corps: Since President John F. Kennedy established the Peace Corps by executive order on March 1, 1961, more than 210,000 Americans have served in 139 host countries. Today, 8,073 volunteers are working with local communities in 76 host countries in agriculture, community economic development, education, environment, health and youth in development. Peace Corps volunteers must be U.S. citizens and at least 18 years of age. Peace Corps service is a 27-month commitment and the agency's mission is to promote world peace and friendship and a better understanding between Americans and people of other countries. Visit www.peacecorps.gov for more information.
# # #
---