FOR IMMEDIATE RELEASE:
Thursday, October 31, 2013
Peace Corps Volunteer Teaches Students about Halloween to Encourage Cultural Exchange
WASHINGTON, D.C., October 31, 2013 – Peace Corps volunteers worldwide are teaching community members about American Halloween traditions, exemplifying the Peace Corps' goal of promoting a better understanding of Americans on the part of people served. Below is an example of how one volunteer in Macedonia shared American Halloween traditions with her students.
Peace Corps volunteer Sara Scholin of Pine City, Minn., recently collaborated with two teachers from the local primary school in her Macedonian community to host a three-day Halloween celebration for nearly 500 students in grades five through eight. During the celebration, students learned about the basic history of Halloween and participated in traditional Halloween activities.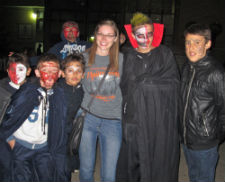 "A few weeks before Halloween, a couple of the seventh-grade girls approached me asking if I could organize something for Halloween," Scholin said.
Scholin and her fellow teachers decided to host a Halloween bingo competition during the first two nights of the celebration as an interactive way for the students to learn Halloween vocabulary words and practice their English.

"The bingo competition was standing room only," Scholin said. "More than 175 kids came to play over the course of two days."
During the final night of the celebration, students joined in a pumpkin-carving contest, costume contest and Halloween parade.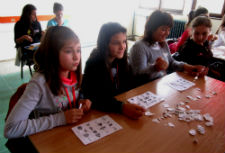 "I was very impressed by the costumes my kids came up with for the contest," Scholin said. "They don't really sell Halloween costumes here, so the kids had to be extra creative. The celebration was a success!"
Scholin is a graduate of Gustavus Adolphus College in St. Peter, Minn., and has been teaching English to primary school students in Macedonia since she was sworn-in as a Peace Corps volunteer in 2011.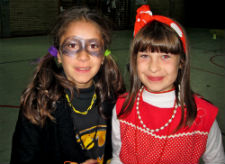 About Peace Corps/Macedonia: More than 500 Peace Corps volunteers have served in Macedonia since the program was established in 1996. Currently, approximately 101 volunteers serve in Macedonia. Volunteers work in the areas of English education and community and municipal development. Volunteers are trained and work in the Albanian and Macedonian languages.
About the Peace Corps: Since President John F. Kennedy established the Peace Corps by executive order on March 1, 1961, more than 210,000 Americans have served in 139 host countries. Today, 8,073 volunteers are working with local communities in 76 host countries in agriculture, community economic development, education, environment, health and youth in development. Peace Corps volunteers must be U.S. citizens and at least 18 years of age. Peace Corps service is a 27-month commitment and the agency's mission is to promote world peace and friendship and a better understanding between Americans and people of other countries. Visit www.peacecorps.gov for more information.
# # #
---