FOR IMMEDIATE RELEASE:
Tuesday, January 14, 2014
Peace Corps Volunteer Teaches Healthy Eating Habits to Children and Mothers in Guatemala
WASHINGTON, D.C., January 14, 2014 – Peace Corps volunteer Kate Young of Chapel Hill, N.C., is spearheading a school nutrition project to address malnutrition in her Guatemalan community by educating preschool students and their parents on long-term healthy eating habits.
Young, who has been working as a municipal development advisor in Guatemala since 2010, was inspired to pursue the project after coordinating a basic health examination for children at her local preschool.
"I made an appointment with the community hospital for the health nurses to weigh, measure and examine all of the students," said Young, a graduate of Rutgers University. "Of those examined, 54 percent were malnourished."
Working with fellow Peace Corps volunteers and the local government, Young has planted vegetable gardens on the school's grounds and trained the children's mothers in gardening, harvesting crops, nutrition and cooking. Young has also helped the mothers plant family gardens at their homes.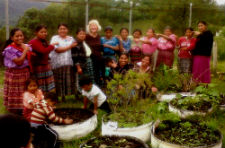 "I met with the mothers weekly to haul loads of topsoil, break ground with picks and hoes, mix the soil with organic fertilizer, and finally plant vegetable and flower seeds," Young said. "Within a month, the school and family gardens were yielding radishes, chard, carrots and beets."
Young and two fellow volunteers then held a series of trainings for mothers on basic nutrition and children's dietary needs. The trainings included cooking classes to demonstrate a variety of ways the crops could be used in preparing everyday snacks and meals.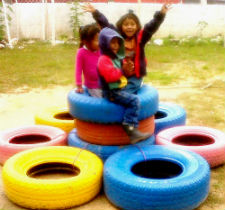 "We taught the mothers how to make healthy snacks such as omelets with carrots, chard and potatoes, soy banana pancakes and fruit salads," Young said. "I also worked with teachers at the school and parents to create a school snack menu featuring foods rich in crucial nutrients missing from the students' diets, like vitamin A, calcium, protein and iron."
The project has been a great success within Young's community, and she plans to continue working with the preschool staff and local mothers to improve the program throughout the next school year.
"This project has the potential to benefit many area schools and hundreds of families in the urban and outlying areas. The commitment of the parents and teachers has been strong, and we have accomplished all of our goals for the program this year."
About Peace Corps/Guatemala: There are currently 82 volunteers in Guatemala working in the areas of health, youth development and agriculture. During their service in Guatemala, volunteers learn to speak the local languages, including: Ixil, Kakchiquel, Mam, Q'anjob'al, Qe'qchí, Quiché, Spanish and Tzutuhil. More than 4,875 Peace Corps volunteers have served in Guatemala since the program was established in 1963.
About the Peace Corps: As the preeminent international service organization of the United States, the Peace Corps sends Americans abroad to tackle the most pressing needs of people around the world. Peace Corps volunteers work at the grassroots level with local governments, schools, communities, small businesses and entrepreneurs to develop sustainable solutions that address challenges in education, health, economic development, agriculture, environment and youth development. When they return home, volunteers bring their knowledge and experiences – and a global outlook – back to the United States that enriches the lives of those around them. President John F. Kennedy established the Peace Corps in 1961 to foster a better understanding among Americans and people of other countries. Since then, more than 215,000 Americans of all ages have served in 139 countries worldwide. Visit www.peacecorps.gov to learn more.
# # #
---