FOR IMMEDIATE RELEASE:
Monday, December 22, 2014
Peace Corps Volunteer Teaches Ballet to Help Girls in Costa Rica Build Self-Confidence
WASHINGTON, D.C., Dec. 22, 2014 – Peace Corps volunteer Eve Solomon of Ross, California, is helping girls in her small Costa Rican community develop self-confidence and healthy lifestyle habits by introducing them to ballet. Solomon, who studied dance for more than 13 years prior to her service, has been teaching after-school ballet classes to 24 of her elementary school students, and eight of them were recently selected to dance in a holiday performance of The Nutcracker in San José.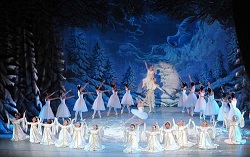 "When word got out that I had studied ballet and was thinking of giving classes, there was so much interest that I had no choice but to follow through with the idea," said Solomon, a graduate of Barnard College who has been teaching English in Costa Rica since 2013.
Solomon started teaching ballet classes last October after noticing a lack of extracurricular activities available to girls in her village. Students attend school for only 4 ½ hours each day, and girls are often expected to return home to care for their younger siblings. After receiving donated leotards, tights and slippers from Marin Ballet, her ballet academy in the U.S., Solomon was able to offer classes to girls who couldn't afford to buy the appropriate attire. Before she knew it, she was teaching nearly one-third of the girls at her school.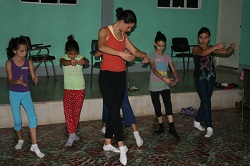 During a ballet field trip, Solomon's students met with the director of Escuela de Ballet Clásico Ruso – a renowned ballet school in the capital city – who was so impressed by their enthusiasm for ballet that she invited them to audition for their upcoming performance of The Nutcracker. Solomon held tryouts to select which students would go to the auditions.
"I wish they could have all gone, but because of space, I held an in-town audition and sent eight of the most dedicated students to San José," she said. "When all eight were chosen for The Nutcracker, we were so excited! It was an opportunity nobody ever imagined these girls would have."
With the help of funds from the
Peace Corps Partnership Program (PCPP)
, Solomon chartered a bus to take the performers and two chaperones to weekly rehearsals at Escuela de Ballet Clásico Ruso, and to cover hotel costs for the girls and their parents during the week of the performance. She also worked with students' parents and the local development association to update their practice studio with ballet barres and a much-needed coat of paint.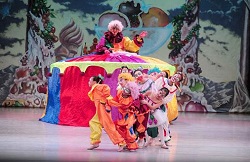 "After months of waking up as early as 3:00 a.m. to attend rehearsals in San José, the girls finally had their on-stage debut in front of a packed house, including more than 60 community members who came from our town to see them perform," Solomon said. "Everyone was so proud, and because parents were the drivers of this project and involved in every step of the process, they now have their foot in the door with a professional ballet school so they can collaborate on future projects without my assistance."

Solomon has already seen self-confidence and ambition among her students grow. She plans to continue teaching ballet classes throughout the remainder of her service and has identified a teacher to take over when she leaves. Solomon hopes her example will influence others in the community to offer more extracurricular activities for girls.

"These young girls have gained so many skills and learned that through perseverance and dedication, they can achieve their dreams," she said. "They've shown their community that through hard work and a little bit of faith, the seemingly impossible can become a reality."