FOR IMMEDIATE RELEASE:
Tuesday, November 6, 2012
Peace Corps Volunteer Supports Development of Women's Business Group in Costa Rica
WASHINGTON, D.C., November 6, 2012 – Peace Corps volunteer Dorian Diaz del Castillo of San Diego, Calif., is working with eight women from his small Costa Rican community to develop business skills and generate income from the sale of hand-sewn products.
Diaz del Castillo said that creating a new business will boost morale and generate income that goes directly to the women who participate, and it has the potential to create jobs for others in the community as the enterprise grows. He has already helped the women raise money for necessary equipment and business licensing fees.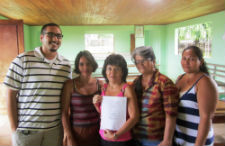 "The lack of employment opportunities especially for women in the town is what makes this project such a priority," said, Diaz del Castillo, a Gonzaga University graduate who has been living and working in Costa Rica since October of 2010. "Most jobs in the town are geared towards the farm worker, which has always been male dominated in these rural towns."
The women came up with the idea for the small business after they participated in a free community sewing class together. Since the first class, they have participated in advanced sewing courses, taken courses dedicated to finance, accounting and marketing and met weekly with Diaz del Castillo to learn basic computing and business skills. The women have also raised money for the business by selling home-cooked food.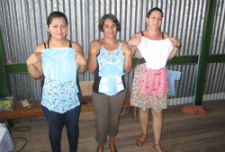 Diaz del Castillo views the women's group as a further step toward economic development for women in his small rural community. "Helping the group expand will not only help these women achieve their goals but will also prove to a small rural community that hard work does pay off."
About Peace Corps/Costa Rica: More than 3,370 Peace Corps volunteers have served in Costa Rica since the program was established in 1963. Currently, 128 volunteers serve in Costa Rica. Volunteers work in the areas of youth development, community development, business and English education. Volunteers are trained and work in Spanish.
About the Peace Corps: Since President John F. Kennedy established the Peace Corps by executive order on March 1, 1961, more than 210,000 Americans have served in 139 host countries. Today, 8,073 volunteers are working with local communities in 76 host countries in agriculture, community economic development, education, environment, health and youth in development. Peace Corps volunteers must be U.S. citizens and at least 18 years of age. Peace Corps service is a 27-month commitment and the agency's mission is to promote world peace and friendship and a better understanding between Americans and people of other countries. Visit www.peacecorps.gov for more information.
# # #
---