FOR IMMEDIATE RELEASE:
Thursday, March 15, 2012
Peace Corps Volunteer Starts Recycling Center to Promote Environmental Awareness and Health in Panama
WASHINGTON, D.C., March 15, 2012 Peace Corps volunteer Ashley Gleason of Temecula, Calif., is working with her local community in central Panama to start a recycling program and create a sustainable solid waste management system. A portion of the funds for the three recycling centers were raised through the
Peace Corps Partnership Program (PCPP)
, a program that supports Peace Corps volunteer community projects worldwide.
Aimed at providing awareness to the community as a whole, this project is rooted in promoting healthier lifestyles, said Gleason, who has been working as a community environmental education volunteer since April 2010. More than 90 percent of community members currently manage waste by burning their trash in their yards on a daily basis. This practice is dangerous for the environment as well as the health of all community members.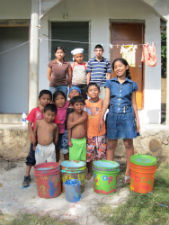 Since arriving in her community in 2010, Gleason has been teaching environmental awareness and proper trash disposal. Through the recycling program, Gleason and her community will construct recycling centers for solid waste materials. The recyclable material will eventually be sold to a local recycling company.
The funds raised through the PCPP will be used to build wooden boxes and buy large metal trash bins to collect recyclables. Gleasons community has donated manpower to construct the recycling centers and provide transportation for the construction materials.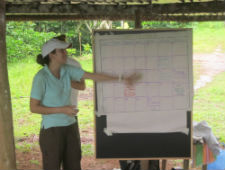 Our recycling program will offer a safe alternative to burning trash while also educating the community about the importance of environmental conservation and improving local health standards, said Gleason, a graduate of the University of California, Los Angeles. Community members will acquire a better understanding of the practical ways we may positively affect our world.
In order to receive funding through the PCPP, a community must make a 25 percent contribution to the total project cost and outline success indicators for the individual projects. This helps ensure community ownership and a greater chance of long-term sustainability. One hundred percent of each tax-deductible PCPP donation goes toward a development project.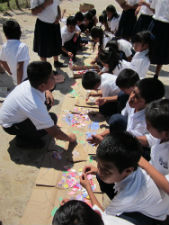 About Peace Corps/Panama:
More than 2,030 Peace Corps volunteers have served in Panama since the program was established in 1963. Currently, 223 volunteers serve in Panama. Volunteers work in the areas of community development, English education, environment, health and agriculture. Volunteers are trained and work in the following languages: Embera, Ngabe, Spanish, Wounaan and Naso.
About the Peace Corps:
Since President John F. Kennedy established the Peace Corps by executive order on March 1, 1961, more than 200,000 Americans have served in 139 host countries. Today, 9,095 volunteers are working with local communities in 75 host countries. Peace Corps volunteers must be U.S. citizens and at least 18 years of age. Peace Corps service is a 27-month commitment and the agencys mission is to promote world peace and friendship and a better understanding between Americans and people of other countries. Visit www.peacecorps.gov for more information.
# # #
---