FOR IMMEDIATE RELEASE:
Tuesday, September 13, 2011
Peace Corps Volunteer Spearheads Effort to Open Community Library in Togo
WASHINGTON, D.C., Sept. 13, 2011 Peace Corps volunteer Emily Jones of Dedham, Mass., is working with her community in northern Togo to build a library of books and research documents in French, English, and other local languages. This project is funded through the Peace Corps Partnership Program (PCPP), which raises money for Peace Corps volunteer community projects.
"Although our village has five elementary schools, a middle school and a growing high school, there is no library access for community members and students must learn by copying notes from the blackboard, said Jones, a girls education and empowerment volunteer who majored in geography at Dartmouth before departing for Peace Corps service in Togo.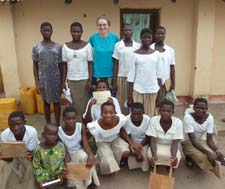 "Villagers have already donated a building and wood for the rafters and furniture, and we plan to use volunteer labor for the construction. Once weve opened the facility, library card dues and income from cell phone-charging at the solar panel will pay for operating expenses and new books, Jones continued.
In order to receive funding through the PCPP, a community must make a 25 percent contribution to the total project cost and outline success indicators for the individual projects. This helps ensure community ownership and a greater chance of long-term sustainability.
One hundred percent of each tax-deductible donation goes toward a development project. Those interested in supporting the library renovation in Togo can go to
www.peacecorps.gov/contribute
. Jones\' project number is 693-381.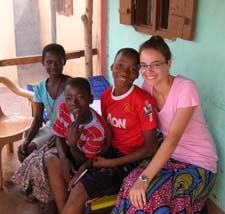 About Peace Corps/Togo:
More than 2,630 Peace Corps volunteers have served in Togo since the program was established in 1962. Currently, 117 volunteers are serving in Togo.
About the Peace Corps:
President John F. Kennedy established the Peace Corps on March 1, 1961, by executive order. Throughout 2011, Peace Corps is commemorating 50 years of promoting peace and friendship around the world. Historically, more than 200,000 Americans have served with the Peace Corps to promote a better understanding between Americans and the people of 139 host countries. Today, 8,655 volunteers are working with local communities in 76 host countries. Peace Corps volunteers must be U.S. citizens and at least 18 years of age. Peace Corps service is a 27-month commitment. Visit www.peacecorps.gov for more information.
# # #
---