FOR IMMEDIATE RELEASE:
Tuesday, January 22, 2013
Peace Corps Volunteer Shares Love of Reading – and Hundreds of Books – with Students in Romania
WASHINGTON, D.C., January 22, 2013 – Peace Corps volunteer Kelly Forster of Barrow, Alaska, is updating her local secondary school library book collection with more than 200 new books.
"I couldn't help but notice a huge hole in the library's collections. There were no new books," said Forster, who has been living and working in Romania as a secondary English teacher since April 2011.

Each book currently sitting on the library's shelves at the school has been donated. Some of the books currently housed in the school library date back to the Communist era, and a large majority are Romanian classics that are beyond the reading level of many students.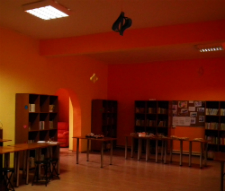 Forster will contribute to the collection with approximately 200 new books, which will be available to more than 600 students from two local schools. These will include both fiction and non-fiction, and they will be at an appropriate reading level for students in the community. Forster has already selected the new books, which she will purchase in mid-January. She says the students are most excited about the "Harry Potter" series, "The Hunger Games" trilogy and "The Diary of a Wimpy Kid" books.
Forster believes the new library books will help change the students' attitudes towards reading and literacy, and once the students begin to share her love for literature, teachers will follow suit. With the administration involved, there will be more of an effort to keep the collection growing in the future.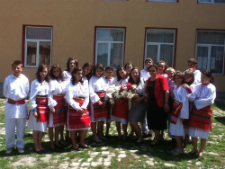 A portion of the project was funded through the Peace Corps Partnership Program (PCPP), a program that helps support Peace Corps volunteer community projects worldwide. In order to receive funding through the PCPP, a community must make a contribution of at least 25 percent of the total project cost and outline success indicators for the individual projects. This helps ensure community ownership and a greater chance of long-term sustainability. One hundred percent of each tax-deductible PCPP donation goes toward a development project. Forster's students helped raise money for the new books by holding school-wide fundraisers.
"Books will no longer be solely associated with homework and boredom, but with interest and excitement," said Forster, a graduate of the University of California, Irvine.
About Peace Corps/Romania: Nearly 1,180 Peace Corps volunteers have served in Romania since the program was established in 1991. Currently, 43 volunteers serve in Romania. Volunteers work in the area of English education. Volunteers are trained and work in the Romanian language.
About the Peace Corps: Since President John F. Kennedy established the Peace Corps by executive order on March 1, 1961, more than 210,000 Americans have served in 139 host countries. Today, 8,073 volunteers are working with local communities in 76 host countries in agriculture, community economic development, education, environment, health and youth in development. Peace Corps volunteers must be U.S. citizens and at least 18 years of age. Peace Corps service is a 27-month commitment and the agency's mission is to promote world peace and friendship and a better understanding between Americans and people of other countries. Visit www.peacecorps.gov for more information.
# # #
---