FOR IMMEDIATE RELEASE:
Tuesday, March 20, 2012
Peace Corps Volunteer Renovates Youth Center in Mongolia
WASHINGTON, D.C., March 20, 2012 Peace Corps volunteer Brittany Neace of Knoxville, Tenn., and her Mongolian community are renovating a youth resource center to provide nearly 200 children access to computers and other educational materials. A portion of the funds for the resource center are being raised through the
Peace Corps Partnership Program (PCPP)
, a program that supports Peace Corps volunteer community projects worldwide.
There is an allocated room for children, but is in need of serious repairs to fix the crumbling walls, chipping paint, collapsing ceiling, and the floods need updating, said Neace, who has been working as a community development volunteer in eastern Mongolia since June 2010. Through organized clubs and activities, children will have a more enriched education that will help prepare them to be Mongolias next generation. With the additional resources such as computers, they will be not only more prepared but have more skills to help them be competitive in this evolving society.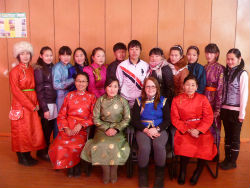 The resource room will provide a comfortable environment for children to study, complete their homework, and learn how to use a computer. The resource center will be staffed by department specialists, who will work with the youth. In addition, the center will be a place for childrens clubs to meet on a regular basis.
The local community will pay for the labor to repair the room and equipment and transportation costs. Funds raised through the PCPP will be used for to repair materials, computers, tables, chairs, bookshelves, one television, printer, and a sofa.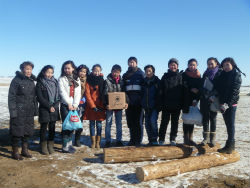 In order to receive funding through the PCPP, a community must make a 25 percent contribution to the total project and outline success indicators for the individual projects. This helps ensure community ownership and a greater chance of long-term sustainability. One hundred percent of each tax-deductible PCPP donation goes toward a development project.
Those interested in supporting Neaces project in Mongolia can visit:
www.peacecorps.gov/donate
. Neaces project number is 309-042.
About Peace Corps/Mongolia:
More than 930 Peace Corps volunteers have served in Mongolia since the program was established in 1991. Currently, 136 volunteers serve in Mongolia. Volunteers work in the areas of English education, community development, health, and economic development. Volunteers are trained and work in Mongolian and Kazakh.
About the Peace Corps:
Since President John F. Kennedy established the Peace Corps by executive order on March 1, 1961, more than 200,000 Americans have served in 139 host countries. Today, 9,095 volunteers are working with local communities in 75 host countries. Peace Corps volunteers must be U.S. citizens and at least 18 years of age. Peace Corps service is a 27-month commitment and the agencys mission is to promote world peace and friendship and a better understanding between Americans and people of other countries. Visit www.peacecorps.gov for more information.
# # #
---