FOR IMMEDIATE RELEASE:
Monday, October 15, 2012
Peace Corps Volunteer Renovates Middle School in Togo
WASHINGTON, D.C., October 15, 2012 - Peace Corps volunteer Naffisatu Conteh of Silver Spring, Md., is working with her Togolese community to renovate the local middle school, which serves nearly 300 students and five staff members. The school currently operates out of a small mud building with inadequate space for students, staff and school activities. A portion of the funds for the project will be raised through the Peace Corps Partnership Program (PCPP), a program that helps support Peace Corps volunteer community projects worldwide.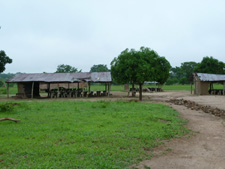 "Because of the poor conditions of the current school and the fact that the nearest sufficient middle school is 10 kilometers away, many students simply don't go to school," said Conteh, a graduate of Virginia Commonwealth University. "The ultimate goal of this project is to provide the village with an improved learning environment that will in turn improve the quality of local children's education."
Community leaders have been working on renovations for the past five years, but the PCPP grant funds will allow the project to be completed.
"The community realizes the implications that a poor education system can have on a community because generations have gone without quality education. Community members want their children to know how to read, write and learn French because without those skills, the children have little chance of rising out of poverty," said Conteh, who has been living and working as a natural resource management volunteer since September 2011.
In addition to providing the land and labor for the project, the community has acquired funding for more teachers and a school director. The community has contributed 27 percent of the total budget. In order to receive funding through the PCPP, a community must make a 25 percent contribution to the total project cost and outline success indicators for the individual projects. This helps ensure community ownership and a greater chance of long-term sustainability.
One hundred percent of each tax-deductible PCPP donation goes toward a development project. Those interested in supporting Conteh's project in Togo can visit: www.peacecorps.gov/donate. Conteh's project number is 693-402.
About Peace Corps/Togo: More than 2,680 Peace Corps volunteers have served in Togo since the program was established in 1962. Currently, 118 volunteers serve in Togo. Volunteers work in the areas of education, environment, health, business, and information technology. Volunteers are trained and work in the following languages: Adja, Bassar, Ewe/Watchi, French, Gourma, Haoussa, Ifè (Ana), Kabiyé, Kotokoli, Mina, and Tchokossi (Anoufo).
About the Peace Corps: Since President John F. Kennedy established the Peace Corps by executive order on March 1, 1961, more than 200,000 Americans have served in 139 host countries. Today, 9,095 volunteers are working with local communities in 75 host countries. Peace Corps volunteers must be U.S. citizens and at least 18 years of age. Peace Corps service is a 27-month commitment and the agency's mission is to promote world peace and friendship and a better understanding between Americans and people of other countries. Visit www.peacecorps.gov for more information.
# # #
---