FOR IMMEDIATE RELEASE:
Tuesday, February 19, 2013
Peace Corps Volunteer Renovates Local Art Center in Botswana
WASHINGTON D.C. February 19, 2013—Peace Corps volunteer Shanta Adeeb of Accokeek, Md., is working with her community in Botswana to renovate and expand the local art center. The center currently serves as a space for more than 65 area artists and craft producers to create and sell contemporary pieces in the traditions of their ancestors.
"When I first arrived in my community, I was immediately inspired by the work being produced by these artists," said Adeeb, a graduate of Tuskegee University who has been living and working in Botswana since 2011. "The art created at the center continues to preserve and encourage pride in the cultural heritage of the people indigenous to the area. Because of the center, people around the world have learned about this community."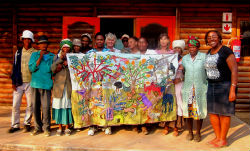 Built in 1990, the center provides space to local artists, most of whom have no formal training, to create and display their work. The artists work in media including oil on canvas, print, batik and lithography. Over time some of the work has become internationally known. Art produced at the center has been exhibited in galleries around the world, sold to private and public collections, featured in publications and even appeared on the tails of British Airways planes.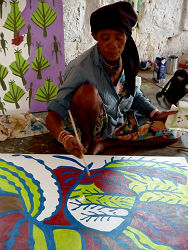 Due to the art's popularity and increasing community participation, the center needs renovations to update infrastructure and provide the artists with more space, including a new craft shop, silk printing room and dark room. A portion of the funds for the project will be raised through the Peace Corps Partnership Program (PCPP), a program that helps support Peace Corps volunteer community projects worldwide.
"Expanding and renovating the art center will be greatly beneficial to the creative atmosphere and community surrounding the center," said Adeeb. "The center has not only created a sense of unity within the community but has become a means of income generation in a settlement where 70 percent of people live below the poverty line."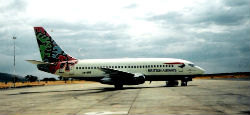 In order to receive funding through the PCPP, a community must make a 25 percent contribution to the total project cost and outline success indicators for the individual projects. One hundred percent of each tax-deductible PCPP donation goes toward a development project. Those interested in supporting Adeeb's project in Botswana can visit: www.peacecorps.gov/donate. Adeeb's project number is: 13-637-001.
About Peace Corps/Botswana: More than 2,310 Peace Corps volunteers have served in Botswana since the program was established in 1966. Currently, 144 volunteers serve in Botswana. Volunteers work to address HIV/AIDS in the areas of health, community development and education. Volunteers are trained and work in Setswana and Ikalanga.
About the Peace Corps: Since President John F. Kennedy established the Peace Corps by executive order on March 1, 1961, more than 210,000 Americans have served in 139 host countries. Today, 8,073 volunteers are working with local communities in 76 host countries in agriculture, community economic development, education, environment, health and youth in development. Peace Corps volunteers must be U.S. citizens and at least 18 years of age. Peace Corps service is a 27-month commitment and the agency's mission is to promote world peace and friendship and a better understanding between Americans and people of other countries. Visit www.peacecorps.gov for more information.
# # #
---