FOR IMMEDIATE RELEASE:
Friday, November 16, 2012
Peace Corps Volunteer Renovates Gym, Creates Sports Clubs in Ukraine
Washington, D.C., November 16, 2012 - Peace Corps volunteer Joshua Davis of Eldersburg, Md., is working with his community in Ukraine to help kids get healthy through sports by improving local facilities.
Without funding for new equipment, Davis and school officials feared that the school wouldn't be able to continue sports education after this year. "The idea of improving the school's gym was considered a major priority by the teachers and administration of the local public school," said Davis, a graduate of Towson University, who has been living and working in Ukraine since March 2011.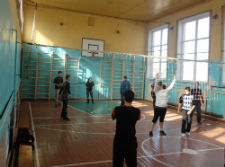 But Davis and community members have come together to make saving sports education a priority through the facilities rehabilitation project. A portion of the funds for the project will be raised through the Peace Corps Partnership Program (PCPP), a program that helps support Peace Corps volunteer community projects worldwide.
"Students are expected to practice sports during gym class with balls that are deflated or worn out, in facilities that are outdated and dangerous," explained Davis. This program will provide new equipment and allow for the local gym to be remodeled, giving students a safe, supervised after school environment.
In addition to fixing up the gym, Davis' program aims to promote healthy lifestyle choices among the youth of his village. "The hope of this project is to get more students interested in sports at a younger age, so that as they mature they will choose to live a healthy lifestyle," he said.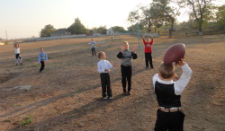 The community has already begun to take an active role in the direction and implementation of the project. School administrators will allocate money for gym upgrades and healthy lifestyle classes, and parents are also eager to become involved, having already begun to volunteer to supervise and facilitate after-school sports club. "The community is the driving force behind the grant and has already begun remodeling the gym in anticipation of new equipment" Davis said.
In order to receive funding through the PCPP, a community must make a 25 percent contribution to the total project cost and outline success indicators for the individual projects. This helps ensure community ownership and a greater chance of long-term sustainability. One hundred percent of each tax-deductible PCPP donation goes toward a development project. Those interested in supporting Davis' project in Ukraine can visit: www.peacecorps.gov/donate. Davis' project number is: 343-364.
About Peace Corps/Ukraine: More than 2,630 Peace Corps volunteers have served in Ukraine since the program was established in 1992. Currently, about 463 volunteers serve in Ukraine. Volunteers work in the areas of education, economic development and youth development. Volunteers are trained and work in Russian and Ukrainian.
About the Peace Corps: Since President John F. Kennedy established the Peace Corps by executive order on March 1, 1961, more than 210,000 Americans have served in 139 host countries. Today, 8,073 volunteers are working with local communities in 76 host countries in agriculture, community economic development, education, environment, health and youth in development. Peace Corps volunteers must be U.S. citizens and at least 18 years of age. Peace Corps service is a 27-month commitment and the agency's mission is to promote world peace and friendship and a better understanding between Americans and people of other countries. Visit www.peacecorps.gov for more information.
# # #
---