FOR IMMEDIATE RELEASE:
Friday, January 20, 2012
Peace Corps Volunteer Promotes Solar Energy in Malawian Health Center
WASHINGTON, D.C., January 20, 2012 Peace Corps volunteer Allegra Panetto of Haworth, N.J., is working with a local health center in the eastern part of Malawi to power electricity in several of the health centers rooms using solar energy. A portion of the funds for the project were raised through the
Peace Corps Partnership Program (PCPP)
, a program that helps fund Peace Corps volunteer community projects worldwide.
"Each month, more than 60 infants are delivered at the health center. Half of these infants are delivered in the middle of the night, and because it only has lights in the labor ward and out-patient room, mothers pre-and post-delivery must wait in a room without electricity, said Panetto, a Columbia University graduate. Installing solar energy at the health center will better the lives of both the patients and staff.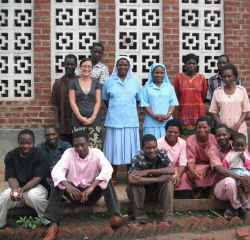 The health center serves more than 17,000 people in 35 villages near the shores of Lake Malawi. Prior to installing the solar panels in the health clinic, the staff will renovate the in-patient room and staff housing to prepare for the installation. In 2009, solar electricity was already installed in the out-patient room and labor ward.
"The suns power is the sustaining forces behind this project, said Panetto, who has been working as a health volunteer in Malawi since July 2010. The area is a very hot and sunny, even during rainy season. The acquisition of electricity to the in-patient dorm will increase the capacity of patient attendants, nurses, and family members to care for patients expectant or new mothers, or those suffering from life-threatening diseases.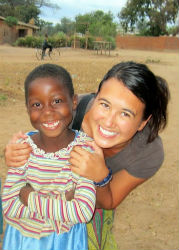 In order to receive funding through the PCPP, a community must make a 25 percent contribution to the total project cost and outline success indicators for the individual projects. This helps ensure community ownership and a greater chance of long-term sustainability.
About Peace Corps/Malawi:
More than 2,520 Peace Corps volunteers have served in Malawi since the program was established in 1963. Currently, 126 volunteers serve in Malawi. Volunteers work in the areas of education, environment, agriculture and health. Volunteers are trained and work in the following languages: Chichewa, Chilambya, Chilomwe, Chindali, Chisena, Chitonga and Chitumbuka.
About the Peace Corps:
Since President John F. Kennedy established the Peace Corps by executive order on March 1, 1961, more than 200,000 Americans have served in 139 host countries. Today, 9,095 volunteers are working with local communities in 75 host countries. Peace Corps volunteers must be U.S. citizens and at least 18 years of age. Peace Corps service is a 27-month commitment and the agencys mission is to promote world peace and friendship and a better understanding between Americans and people of other countries. Visit www.peacecorps.gov for more information.
# # #
---