FOR IMMEDIATE RELEASE:
Monday, March 25, 2013
Peace Corps Volunteer Promotes Leadership Development Program for Paraguayan Youth
WASHINGTON, D.C., March 25, 2013 - Peace Corps volunteer Shavon Whitehead of Alexandria, Va., is working with her local community in Paraguay to raise funds for a four-day leadership development camp for more than 80 local youth. A portion of the funds for the project will be raised through the Peace Corps Partnership Program (PCPP), a program that helps support Peace Corps volunteer community projects worldwide.
"With 60 percent of the population in Paraguay comprised of youth born into Paraguay's new democracy, the priority is to ensure that they are prepared to take on the leadership roles that will ultimately strengthen and move the democracy into the future," said Whitehead, a graduate of the University of Miami who has been working as community economic development volunteer in Paraguay since 2011. "Currently, very few opportunities exist for youth to participate in civic leadership activities and our goal is to better prepare these future leaders from various communities around Paraguay – both urban and rural, so that they will ultimately have the skills to help their communities at the grassroots level."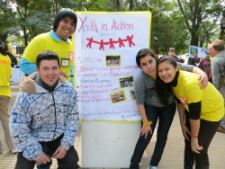 The fourth annual camp will bring together 82 active youth leaders between the ages of 15 and 25 from communities across Paraguay. Camp activities will focus on a wide variety of topics, including civic engagement, self-esteem, values, community service projects and team building. Following the completion of the camp, the youth participants are expected to initiate a personal community service project to demonstrate their newly acquired knowledge.

"Through the various activities, youth will acquire practical skills and resources to enhance their leadership abilities, while focusing on character development, self-esteem, and civic responsibility. They will also be exposed to the importance of political participation and the need for positive change in democracy, and be provided with a forum where creative ideas and solutions can be exchanged among youth from diverse backgrounds. Our main goal is to motivate the youth and expand the scope of possibilities of civic-engagement opportunities in the community by the youth themselves," said Whitehead.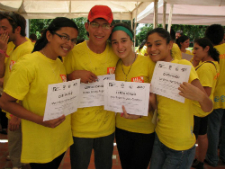 In order to receive funding through the PCPP, a community must make a 25 percent contribution to the total project cost and outline success indicators for the individual projects. This helps ensure community ownership and a greater chance of long-term sustainability. One hundred percent of each tax-deductible PCPP donation goes toward a development project. Whitehead's project was recently fully funded. Those interested in supporting other Peace Corps Partnership Program projects should visit: www.peacecorps.gov/donate.
About Peace Corps/Paraguay: More than 3,580 Peace Corps volunteers have served in Paraguay since the program was established in 1967. Currently, 257 volunteers serve in Paraguay. Volunteers work in the areas of agriculture, community development, education, youth development, environment and health. Volunteers are trained and work in Guaraní and Spanish.
About the Peace Corps: Since President John F. Kennedy established the Peace Corps by executive order on March 1, 1961, more than 210,000 Americans have served in 139 host countries. Today, 8,073 volunteers are working with local communities in 76 host countries in agriculture, community economic development, education, environment, health and youth in development. Peace Corps volunteers must be U.S. citizens and at least 18 years of age. Peace Corps service is a 27-month commitment and the agency's mission is to promote world peace and friendship and a better understanding between Americans and people of other countries. Visit www.peacecorps.gov for more information.
# # #
---