FOR IMMEDIATE RELEASE:
Monday, March 11, 2013
Peace Corps Volunteer Promotes Health Through Gender Development Camp in Thailand
WASHINGTON, D.C., March 11, 2013 - Peace Corps volunteer Ji Kim of Potomac, Md., is working with her community in Thailand to initiate a sexual health and gender empowerment training camp for local high school students. A portion of the funds for the project will be raised through the Peace Corps Partnership Program (PCPP), a program that helps support Peace Corps volunteer community projects worldwide.
"Comprehensive sexual education is commonplace in the United States, but it is lacking in Thailand," said Kim, a graduate of the University of Maryland who has been living and working in Thailand since 2012. "HIV/AIDS education, especially, is glossed over when introducing healthy lifestyle habits to students. Once stigma is reduced around sexual relations, then students will become more empowered to look after their bodies. This camp will improve student's understanding of healthy lifestyle habits and promote gender empowerment and the overall well-being of one's body and mind."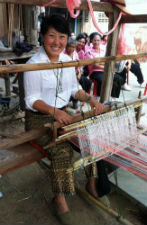 More than 200 students from 8th through 11th grade are set to attend the three-day camp, during which teachers and guest speakers will discuss the topics including HIV/AIDS prevention, healthy lifestyle choices and gender empowerment.
"Thailand is a very progressive country. However, there are overlooked gaps in the education of students about sexual health and gender that affects everyone," said Kim. "After the training, students will be able to identify ways in which HIV/AIDS is transmitted, describe issues facing LGBT populations, list factors associated with high teen pregnancy and identify ways to address risk factors of teen pregnancy."
The local community, which has been a large part of the drive behind the creation of the program, has pledged to fund most of the larger costs of the program with the PCPP money going to food and additional costs. Kim believes that the camp will inspire the community, the school teachers and the local health clinic to further the educational awareness on health issues beyond just the students.
In order to receive funding through the PCPP, a community must make a 25 percent contribution to the total project cost and outline success indicators for the individual projects. This helps ensure community ownership and a greater chance of long-term sustainability. One hundred percent of each tax-deductible PCPP donation goes toward a development project. Those interested in supporting Kim's project in Thailand can visit: www.peacecorps.gov/donate. Kim's project number is: 493-177.
About Peace Corps/Thailand: More than 5,040 Peace Corps volunteers have served in Thailand since the program was established in 1962. Currently, 106 volunteers serve in Thailand. Volunteers work in the areas of education and community development. Volunteers are trained and work in the Thai language.
About the Peace Corps: Since President John F. Kennedy established the Peace Corps by executive order on March 1, 1961, more than 210,000 Americans have served in 139 host countries. Today, 8,073 volunteers are working with local communities in 76 host countries in agriculture, community economic development, education, environment, health and youth in development. Peace Corps volunteers must be U.S. citizens and at least 18 years of age. Peace Corps service is a 27-month commitment and the agency's mission is to promote world peace and friendship and a better understanding between Americans and people of other countries. Visit www.peacecorps.gov for more information.
# # #
---