FOR IMMEDIATE RELEASE:
Friday, September 26, 2014
Peace Corps Volunteer Promotes Forest Conservation and Income Generation in Ethiopian Community
WASHINGTON, D.C., September 26, 2014 – In honor of World Tourism Day on Sept. 27, the Peace Corps recognizes volunteers who work to strengthen local economies and involve their communities in tourism projects around the world. Since 1980, the United Nations World Tourism Organization has celebrated World Tourism Day to raise awareness and demonstrate how tourism affects social, cultural, political and economic values in the international community.

Below find an example of how a Peace Corps volunteer in Ethiopia is promoting tourism in her community. Learn more about World Tourism Day at wtd.unwto.org/.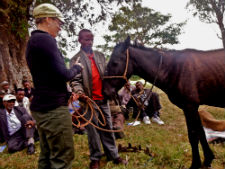 Peace Corps volunteer Sally Kintner of Kalispell, Montana, is working with her Ethiopian community and a German non-governmental organization to conserve endangered, resource-rich forests in the southwestern region of the country and generate income for local families. The forested area, designated as a UNESCO Biosphere Reserve in 2010, has historically produced more than 5,000 varieties of wild coffee and serves as a major source of income for locals through the sale of natural resources and ecotourism.
"I'm working with the NGO to help local communities understand and benefit from living in a Biosphere Reserve," said Kintner, a graduate of Oberlin College who has been living in Ethiopia since 2012. "The Biosphere Reserve designation allows the Ethiopian government to protect and raise awareness around the area, which contains some of the last remaining forests in the country and has become seriously threatened as the population grows."
Deforestation has become an increasingly severe problem in Ethiopia throughout the last half-century. About 40 percent of the country's land surface was covered by forests 40 years ago, but today only 3 percent remains. Since the Biosphere Reserve designation, Kintner and her colleagues have been educating community members about the changes the designation brings and encouraging their participation in ecotourism initiatives designed to build on existing income. In collaboration with the NGO, Kintner is also promoting the value of the coffee forests and economic activities that are environmentally sustainable.
"I have worked with schoolchildren in club and camp settings to promote environmental awareness, helped to arrange permaculture trainings at our local prison and have an ongoing garden project there," Kintner said. "I've done reforestation work and tree nursery cultivation, and I have helped develop alternate means of making a profit that incentivizes protection of the forest."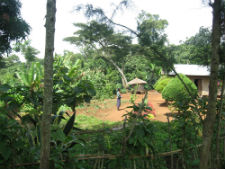 To train the local community around the Biosphere Reserve on successful tourism practices, Kintner is facilitating an internship program free of charge with an established Ethiopian tour guide association. Funds raised through Peace Corps' Partnership Program, which supports Peace Corps volunteer community projects worldwide, will cover the interns' roundtrip transportation to the training site and lodging and meals throughout the internship.
"Through all of these initiatives, I hope to see this community of hospitable, hardworking, curious people that I've lived with and connected to for two years get stronger and more able to stand on its own," Kintner said.
About Peace Corps/Ethiopia: There are currently 201 volunteers in Ethiopia working in the areas of education, health, agriculture and environment. During their service in Ethiopia, volunteers learn to speak the local languages, including: Amharic, Oromifa and Tigrinya. More than 3,355 Peace Corps volunteers have served in Ethiopia since the program was established in 1962.
About the Peace Corps: As the preeminent international service organization of the United States, the Peace Corps sends Americans abroad to tackle the most pressing needs of people around the world. Peace Corps volunteers work at the grassroots level with local governments, schools, communities, small businesses and entrepreneurs to develop sustainable solutions that address challenges in education, health, economic development, agriculture, environment and youth development. When they return home, volunteers bring their knowledge and experiences—and a global outlook—back to the United States that enriches the lives of those around them. President John F. Kennedy established the Peace Corps in 1961 to foster a better understanding among Americans and people of other countries. Since then, more than 215,000 Americans of all ages have served in 139 countries worldwide. Visit www.peacecorps.gov to learn more.
# # #
---