FOR IMMEDIATE RELEASE:
Monday, July 15, 2013
Peace Corps Volunteer Promotes Environmental Awareness by Inspiring Her Community to Think Creatively About Trash
WASHINGTON, D.C., July 15, 2013 - Peace Corps volunteer Gaea Dill-D'Ascoli of Minneapolis, Minn., recently organized a week-long trash cleanup in Vanuatu with more than 140 members of her community youth center to increase environmental awareness. Following the cleanup, she encouraged participants to think creatively about alternative uses for trash by dividing participants into teams to build boats out of the trash they collected for a race in the city's central harbor.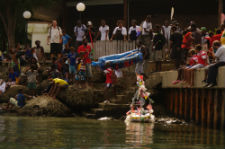 "By using trash picked up during the cleanup to create boats, I hoped to show people that trash can be reused and should not be dumped in a landfill or thrown on the side of the road," said Dill-D'Ascoli, who has been living and working in Vanuatu since September 2010. "I grew up in Minneapolis where each year there is a milk carton boat race as part of an annual festival. I thought this race would be a great way to raise awareness and have fun while helping to clean up the community."
While there had been independently organized small group cleanups in the past, Dill-D'Ascoli discovered that her community had never conducted a large-scale trash cleanup to collect litter to be reused in a manner similar to the race.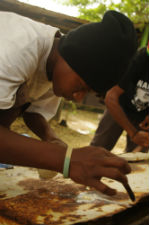 By creating teams and fostering competition through the race, Dill-D'Ascoli was able to motivate the local youth to clean areas with the highest concentrations of trash in order to build the sturdiest boat. In the end, nine boats were created and raced in three heats.
"Each team had between six and 15 members and a leader," said Dill-D'Ascoli, a graduate of Hampshire College. "Most of the boats held two to four people, though one team crammed 12 participants on their boat!"
By the end of the week, Dill-D'Ascoli noticed a change in community members' attitudes toward reusing waste and the importance of environmental awareness.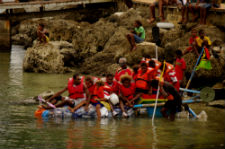 "Because of this project, the community youth are starting to see the potential of trash as a useful resource," she said.
Since the boat race, Dill-D'Ascoli has been contacted by several community groups with ideas for new trash-based projects. She's also working with a local women's group to create recycled crafts.

About Peace Corps/Vanuatu: More than 605 Peace Corps volunteers have served in Vanuatu since the program was established in 1990. Currently, 65 volunteers serve in Vanuatu. Volunteers work in the areas of education, business and health. Volunteers are trained and work in French and Bislama.
About the Peace Corps: Since President John F. Kennedy established the Peace Corps by executive order on March 1, 1961, more than 210,000 Americans have served in 139 host countries. Today, 8,073 volunteers are working with local communities in 76 host countries in agriculture, community economic development, education, environment, health and youth in development. Peace Corps volunteers must be U.S. citizens and at least 18 years of age. Peace Corps service is a 27-month commitment and the agency's mission is to promote world peace and friendship and a better understanding between Americans and people of other countries. Visit www.peacecorps.gov for more information.
# # #
---