FOR IMMEDIATE RELEASE:
Friday, January 25, 2013
Peace Corps Volunteer Promotes Efficient Manufacturing Practices in the Dominican Republic
WASHINGTON D.C., January 25, 2013—Peace Corps volunteer Ashley Ensminger of Salem, Ore., is working with members of a local women's cooperative to raise funds for new equipment and training sessions to boost sales of their dried fruit and marmalade.
"Fruticoop, Inc. is a local women's business initiative that started in 2003," said Ensminger, a graduate of Linfield College who has been living and working in the Dominican Republic since August 2011.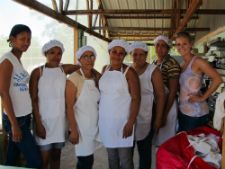 "Today the cooperative is composed of nearly 40 women who produce and sell dried fruits and marmalade using local mango and pineapple. However, because of limited training and equipment, the administrative and production processes lack efficiency, which makes it difficult for the cooperative to reach its target markets."
The funds raised will go toward equipment and training sessions to improve the cooperative's marketing tools and strategies, increase production and improve quality control practices. The goal is to eventually become competitive in the global market. Nearly 30 cooperative members will attend the trainings and will then train others in the new processes.
"Insufficient tools for processing and selling the fruit products make it difficult for the cooperative to produce enough to sell outside of local markets," said Ensminger. "The new equipment will help the cooperative members expand their consumer base, and marketing and administrative training sessions will provide the women with resources to increase efficiency while expanding their marketing skills to boost sales in larger markets."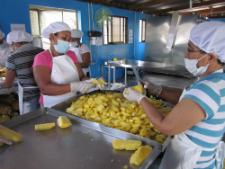 A portion of the funds for the project will be raised through the Peace Corps Partnership Program (PCPP), a program that helps support Peace Corps volunteer community projects worldwide. One hundred percent of each tax-deductible PCPP donation goes toward a development project. Those interested in supporting Ensminger's project in Dominican Republic can visit: www.peacecorps.gov/donate. Ensminger's project number is 517-536.
"My favorite part of this project has been working alongside the women of Fruticoop, Inc. They are extremely motivated individuals striving to provide for both their families and the community. I have no doubt that this project will bring great successes to Fruticoop, Inc. and to the women individually," said Ensminger.
About Peace Corps/Dominican Republic: More than 4,305 Peace Corps volunteers have served in the Dominican Republic since the program was established in 1962. Currently, 207 volunteers serve in the Dominican Republic. Volunteers work in the areas of community development, health, education, environment and business. Volunteers are trained and work in Spanish and basic Haitian Kreyol.
About the Peace Corps: Since President John F. Kennedy established the Peace Corps by executive order on March 1, 1961, more than 210,000 Americans have served in 139 host countries. Today, 8,073 volunteers are working with local communities in 76 host countries in agriculture, community economic development, education, environment, health and youth in development. Peace Corps volunteers must be U.S. citizens and at least 18 years of age. Peace Corps service is a 27-month commitment and the agency's mission is to promote world peace and friendship and a better understanding between Americans and people of other countries. Visit www.peacecorps.gov for more information.
# # #
---