FOR IMMEDIATE RELEASE:
Wednesday, August 1, 2012
Peace Corps Volunteer Plants Sustainable Crop Garden in Burkina Faso
WASHINGTON D.C., Aug. 1, 2012- Peace Corps volunteer Bilin Basu of Peoria, Ill., is working with local farmers in Burkina Faso to plant a garden that will provide nutrient-rich crops to nearly 85 families in the community. A portion of the funds for the project will be raised through the Peace Corps Partnership Program (PCPP), a program that helps support Peace Corps volunteer community projects worldwide.
"A child's diet here contains almost no vegetables. Instead, they eat millet or sorghum paste called 'to' that is dipped in leaf sauce and cooked so long that no vitamins remain," said Basu, a graduate of Augustana College who has been an agriculture volunteer since June 2011. "The garden will be large enough to grow crops for the approximately 85 families in the area; it will benefit nearly 600 people."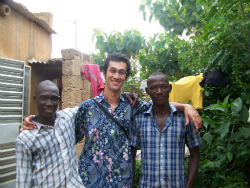 The garden will provide a more nutrient-rich and diverse diet for the community's residents and a sustainable business from selling the crops. The community plans to grow onions, cabbage, squash, hibiscus, beans and cucumbers.
Basu will work with community members to plant, protect and care for the garden that will serve the community. Community members will contribute more than 40 percent of the project's cost and labor. In order to receive PCPP funds, a community must make a 25 percent contribution to the total project cost and outline success indicators for the individual projects. This helps ensure community ownership and a greater chance of long-term sustainability.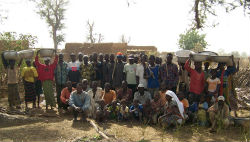 One hundred percent of each tax-deductible PCPP donation goes toward a development project. Those interested in supporting Basu's project in Burkina Faso can visit: www.peacecorps.gov/donate. Basu's project number is 686-227.
About Peace Corps/Burkina Faso: More than 1,740 Peace Corps volunteers have served in Burkina Faso since the program was established in 1966. Currently, 155 volunteers serve in Burkina Faso. Volunteers work in the areas of education, community development, health and business. Volunteers are trained and work in the following languages: Bissa, French, Fulfuldé, Gulmancema, Gurunssi, Hidi, Itanikom, Jula, Kanuri, Kapsiki, Karunfe, Katsena, Lobiri, Lyele, Mandara, Mooré, Mungaka, Siamou and Yemba.
About the Peace Corps: Since President John F. Kennedy established the Peace Corps by executive order on March 1, 1961, more than 200,000 Americans have served in 139 host countries. Today, 9,095 volunteers are working with local communities in 75 host countries. Peace Corps volunteers must be U.S. citizens and at least 18 years of age. Peace Corps service is a 27-month commitment and the agency's mission is to promote world peace and friendship and a better understanding between Americans and people of other countries. Visit www.peacecorps.gov for more information.
# # #
---