FOR IMMEDIATE RELEASE:
Monday, December 3, 2012
Peace Corps Volunteer Organizes Workshop for Disabled Students in Kyrgyzstan
WASHINGTON, D.C., December 3, 2012 – Peace Corps volunteer Brian Itoh of Bozeman, Mont., is helping youth with disabilities develop team-building and leadership skills by creating handicrafts and learning how to teach others with disabilities the same techniques.
Itoh, along with fellow volunteers and community members, recently organized a handicraft workshop for 26 students with disabilities from ages 12 to 17 in his Kyrgyz community. Throughout the three-day workshop, the volunteers and community leaders taught participants to make various handicrafts, including hair ties, slippers, pin cushions and small wooden toys.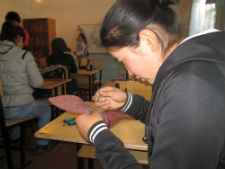 "In addition to learning to make crafts, the students acquired team-building and leadership skills by working together throughout the workshop," said Itoh, a graduate of Montana State University who has been living and working in Kyrgyzstan since March 2011. "The students also participated in interactive training activities so that they have the skills to pass on their new knowledge to others."
Items created during the workshop will be sold locally and internationally, and income generated through sales will be used to fund future workshops in communities throughout Kyrgyzstan.
"The students left the workshop as peer leaders and will now travel to remote villages to train other disabled students," continued Itoh. "They are excited to share their new skills with friends and community members."
About Peace Corps/ Kyrgyz Republic: More than 980 Peace Corps volunteers have served in the Kyrgyz Republic since the program was established in 1993. Currently, 80 volunteers serve in the Kyrgyz Republic. Volunteers work in the areas of education, community development, business development and health. Volunteers are trained and work in Kyrgyz and Russian.
About the Peace Corps: Since President John F. Kennedy established the Peace Corps by executive order on March 1, 1961, more than 210,000 Americans have served in 139 host countries. Today, 8,073 volunteers are working with local communities in 76 host countries in agriculture, community economic development, education, environment, health and youth in development. Peace Corps volunteers must be U.S. citizens and at least 18 years of age. Peace Corps service is a 27-month commitment and the agency's mission is to promote world peace and friendship and a better understanding between Americans and people of other countries. Visit www.peacecorps.gov for more information.
# # #
---