FOR IMMEDIATE RELEASE:
Tuesday, April 17, 2012
Peace Corps Volunteer Organizes Traveling Art Show in Cambodia
WASHINGTON, D.C., April 17, 2012 – Peace Corps volunteer Jane Campbell of San Diego, Calif., is working with her community in Cambodia to organize a traveling art show to promote local youth artists. A portion of the funds for the project will be raised through the Peace Corps Partnership Program (PCPP), a program that helps fund Peace Corps volunteer community projects worldwide.

Peace Corps volunteers across six Cambodian provinces will provide art instruction through a series of workshops to students attending public high school. Students will create a piece of artwork inspired by Mahatma Gandhi's famous quote: "Be the change you wish to see in the world."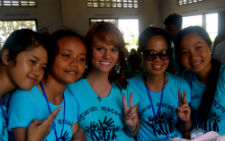 "This project aims to empower youth by generating creativity and providing students with the materials, support, and most importantly, a canvas with which to use their imagination and inspire their educational communities," said Campbell, who has been a Peace Corps volunteer in Cambodia since July 2010.

"Be the Change Traveling Art Show" will support the creation of an art manual, purchase the supplies necessary for the students to create their individual pieces, and allow for the artwork to be showcased throughout different provinces in Cambodia. Each community will contribute a 25 percent donation to support the winners of the competition.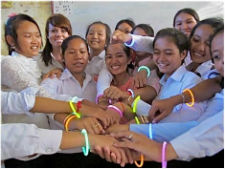 In order to receive funding through the PCPP, a community must make a 25 percent contribution to the total project cost and outline success indicators for the individual projects. This helps ensure community ownership and a greater chance of long-term sustainability.

One hundred percent of each tax-deductible PCPP donation goes toward a development project. Those interested in supporting Campbell's project in Cambodia can visit: www.peacecorps.gov/donate. Campbell's project number is 303-023.

About Peace Corps/Cambodia: More than 190 Peace Corps volunteers have served in Cambodia since the program was established in 2007. Currently, 106 volunteers serve in Cambodia. Volunteers work in the areas of education and health. Volunteers are trained and work in the Khmer language.

About the Peace Corps: Since President John F. Kennedy established the Peace Corps by executive order on March 1, 1961, more than 200,000 Americans have served in 139 host countries. Today, 9,095 volunteers are working with local communities in 75 host countries. Peace Corps volunteers must be U.S. citizens and at least 18 years of age. Peace Corps service is a 27-month commitment and the agency's mission is to promote world peace and friendship and a better understanding between Americans and people of other countries. Visit www.peacecorps.gov for more information.
# # #
---