FOR IMMEDIATE RELEASE:
Wednesday, July 11, 2012
Peace Corps Volunteer Organizes Summer Camp for Youth with Disabilities in Azerbaijan
WASHINGTON D.C., July 11, 2012 - Peace Corps volunteer Alexandra Solomon of New Orleans, La., is partnering with the Center of Support for Children and Families to organize the second annual summer camp for disabled children and their mothers. This year, 20 children and their mothers from three regions of Azerbaijan will attend the camp, which is called: Azerbaijan's Salam Dunya! Biz De Variq! (Hello World! We Exist, Too!). A portion of the funds for the project will be raised through the Peace Corps Partnership Program (PCPP), a program that helps support Peace Corps volunteer community projects worldwide.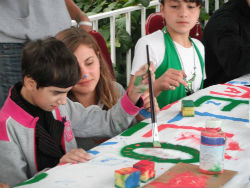 "Camp activities will emphasize nutrition and dental health, facilitate healthy social interaction, and promote independence, creativity, and confidence among the campers," said Solomon, who has been working as a youth development volunteer in Azerbaijan since September 2010. "The children's mothers will also participate in these activities, learning how to instill and stimulate these qualities in their children while spending carefree, quality time with them."

Camp participants will attend group support sessions and guest speaker presentations on topics including first aid and emotional health to establish a supportive community environment for parents. Camp activities will also include yoga and teambuilding challenges. The primary goal of the camp is to empower participants through education and community emotional support.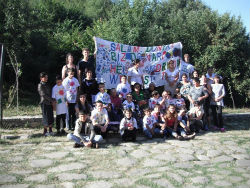 "The skills learned, knowledge gained, and bonds created over the course of the camp can improve their quality of life and lay the foundation for a happier and healthier future," continued Solomon, a graduate of Louisiana State University. "The summer camp will afford the children and their mothers the rare opportunity to relax and focus on what's really important to each other."

Solomon's community has contributed 47 percent of the funds or the project and will facilitate and teach the camp activities. In order to receive funding through the PCPP, a community must make a 25 percent contribution of the total project cost and outline success indicators for the individual projects. This helps ensure the community ownership and a greater chance of long-term sustainability.

One hundred percent of each tax-deductible PCPP donation goes toward a development project. Those interested in supporting Solomon's project in Azerbaijan can visit: www.peacecorps.gov/donate. Solomon's project number is 314-101.

About Peace Corps/Azerbaijan: More than 420 Peace Corps volunteers have served in Azerbaijan since the program was established in 2003. Currently, 155 volunteers serve in Azerbaijan. Volunteers work in the areas of education, youth development and community economic development. Volunteers are trained and work in Azerbaijani (Azeri).

About the Peace Corps: Since President John F. Kennedy established the Peace Corps by executive order on March 1, 1961, more than 200,000 Americans have served in 139 host countries. Today, 9,095 volunteers are working with local communities in 75 host countries. Peace Corps volunteers must be U.S. citizens and at least 18 years of age. Peace Corps service is a 27-month commitment and the agency's mission is to promote world peace and friendship and a better understanding between Americans and people of other countries. Visit www.peacecorps.gov for more information.
# # #
---