FOR IMMEDIATE RELEASE:
Monday, November 26, 2012
Peace Corps Volunteer Organizes Special Needs Awareness Project in Ghana
WASHINGTON, D.C., November 26, 2012 – Peace Corps volunteer Janette Ambauen of Seattle, Wash., is confronting the stigma of children living with disabilities in and around her Ghanaian community. The Special Needs Awareness Project (SNAP) raises awareness and aims to educate all community members about how to support children with special needs.
"I live in an isolated, rural community where most people live below the poverty line" said Ambauen, age 59. "I started to work with the special needs community and have been struck by how vulnerable this group is. SNAP aims to benefit these children and their families through raising awareness, as well as providing healthcare, education and consistent support. We hold monthly meetings to address and discuss such issues."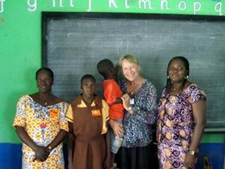 Participants travel from locations across the district to attend SNAP meetings. "Some meetings have been attended by more than 80 community members. Many walk long distances transporting their children with wheelchairs, carts and piggyback rides," continued Ambauen, who has been living and working in Ghana since July 2011.
Each monthly meeting costs nearly $100 U.S. to conduct. Funds raised by Ambauen and the community will go toward food, transportation, venue rental and translation services necessary to conduct the meetings. A portion of the funds for the project will be raised through the Peace Corps Partnership Program (PCPP), a program that helps support Peace Corps volunteer community projects worldwide.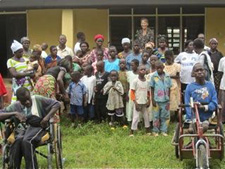 "Through the meetings, we hope to reduce stigma and increase access to basic human rights," said Ambauen.
In order to receive funding through the PCPP, a community must make a 25 percent contribution to the total project cost and outline success indicators for the individual projects. This helps ensure community ownership and a greater chance of long-term sustainability. One hundred percent of each tax-deductible PCPP donation goes toward a development project. Those interested in supporting Ambauen's project in Ghana can visit: www.peacecorps.gov/donate. Ambauen's project number is: 641-334
About Peace Corps/Ghana: More than 4,275 Peace Corps volunteers have served in Ghana since the program was established in 1961. Ghana was the first country in the world to receive Peace Corps volunteers. Currently, 149 volunteers serve in Ghana. Volunteers work in the areas of education, environment, agriculture and health. Volunteers are trained and work in the following languages: Buli, Dagaare, Dagbani, Dangme, Ewe, Fanté, Ga, Ghanaian Sign Language, Gonja, Guruni, Hausa, Kasem, Kusaal, Likipakpaalu, Likpakpaln, Mampruli, Nzema, Sisaali, Taleni, Twi and Waale.
About the Peace Corps: Since President John F. Kennedy established the Peace Corps by executive order on March 1, 1961, more than 210,000 Americans have served in 139 host countries. Today, 8,073 volunteers are working with local communities in 76 host countries in agriculture, community economic development, education, environment, health and youth in development. Peace Corps volunteers must be U.S. citizens and at least 18 years of age. Peace Corps service is a 27-month commitment and the agency's mission is to promote world peace and friendship and a better understanding between Americans and people of other countries. Visit www.peacecorps.gov for more information.
# # #
---