FOR IMMEDIATE RELEASE:
Monday, July 22, 2013
Peace Corps Volunteer Organizes Ocean Fair in Mozambique to Promote Coastal Conservation
Washington, D.C. July 22, 2013 - Peace Corps education volunteer Patrick McGettigan of Haddonfield, N.J., recently organized a three-day Ocean Fair in Mozambique to promote coastal conservation in the African nation.
"I love the ocean and have shared that passion with kids in my community," said McGettigan, a graduate of Boston University who has been living in Mozambique since 2011. "The potential for tourism and economic development exists here, but a focus on coastal conservation is needed to realize that potential."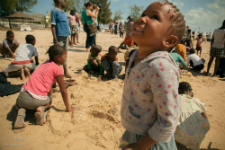 The fair, known as the "Feira do Ocano," featured both cultural and educational events, including beach cleanups, a sand sculpture competition, an ecotourism workshop and educational presentations on fishery management and marine reserves. Local residents and tourists attended, with many of the activities targeted toward children.
"Everything moves slowly here, and I work hard to understand that and not let it deter me from moving forward with projects," McGettigan said. "It is my hope that this connection between economic growth, education and ocean awareness continues to develop long after my time here as a Peace Corps volunteer."
McGettigan teaches English to 11th and 12th grade students in his island community in Mozambique. He also works with students in an art club at the local school to increase environmental awareness by making art from trash, and has partnered with a local non-governmental organization to start a local library.
About Peace Corps/Mozambique: More than 810 Peace Corps volunteers have served in Mozambique since the program was established in 1998. Currently, 226 volunteers serve in Mozambique. Volunteers work in the areas of education and health. Volunteers are trained and work in the following languages: Ajaua, Bitonga, Chope, Changane, Elomwe, Emacua, Hiyau, Nhungwe, Nianja, Portuguese, Swahili, Xitswa, Xindau, Xisena, Xichona, Ximanica, Xichuabo, Ximaconde and Xironga.
About the Peace Corps: Since President John F. Kennedy established the Peace Corps by executive order on March 1, 1961, more than 210,000 Americans have served in 139 host countries. Today, 8,073 volunteers are working with local communities in 76 host countries in agriculture, community economic development, education, environment, health and youth in development. Peace Corps volunteers must be U.S. citizens and at least 18 years of age. Peace Corps service is a 27-month commitment and the agency's mission is to promote world peace and friendship and a better understanding between Americans and people of other countries. Visit www.peacecorps.gov for more information.
# # #
---