FOR IMMEDIATE RELEASE:
Wednesday, March 20, 2013
Peace Corps Volunteer Organizes National Spelling Bee in Benin
Washington, D.C., March 20, 2013 - Peace Corps volunteer Serena Cheung of Putnam Valley, N.Y., is working with communities across Benin to bring together 54 students from 27 different secondary schools to take part in the fifth annual National English Spelling Bee. A portion of the funds for the project will be raised through the Peace Corps Partnership Program (PCPP), a program that supports Peace Corps volunteer community projects worldwide.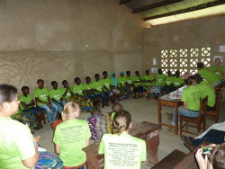 "The event focuses on youth empowerment and how learning can be rewarding and enjoyable. We aim to bolster the motivation of students in their overall studies, but particularly in English, and discussions on health and gender rights will also push students to evaluate their ideas and values," explained Cheung, a graduate of Villanova University who has been living and work in Benin since 2011.
Spelling bee participants will be 6th to 8th grade students. The spelling bee will bring people from different communities and backgrounds in Benin together while also supporting creative learning opportunities to further the education of participants.
"We believe that the long-term effect will be an increased motivation for studying that will help students strive at least to pass their middle-school certificate. We expect that the students' involvement in the Spelling Bee will be a catalyst for participating in other extracurricular activities that can play pivotal roles in their future development," said Cheung of the impact on the participants' futures.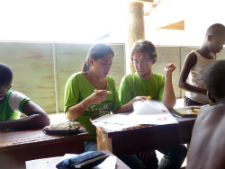 This project is being supported by 27 participating secondary schools that have provided classrooms throughout the school year for the Spelling Bee English Clubs. Directors and teachers from these secondary schools have also supported this cause and made it possible to continue the annual event.
In order to receive funding through the PCPP, a community must make at least a 25 percent contribution to the total project cost and outline success indicators for the individual projects. This helps ensure community ownership and a greater chance of long-term sustainability. One hundred percent of each tax-deductible PCPP donation goes toward a development project. Those interested in supporting Cheung's project in Benin can visit: www.peacecorps.gov/donate. Cheung's project number is: 13-680-008.
About Peace Corps/Benin: More than 1,880 Peace Corps volunteers have served in Benin since the program was established in 1968. Currently, 124 volunteers serve in Benin. Volunteers work in the areas of education, environment, agriculture, health and business. Volunteers are trained and work in the following languages: Adja, Ani, Bariba, Batonu, Biali, Boo, Dendi, Ditamari, Fon, French, Goun, Idaatcha, Mahi, Lokpa, Mina, Nagot, Nateni, Nyende, Peulh, Sahoue, Sola, Tori, Wama, Yende, Yoruba and Zarma.
About the Peace Corps: Since President John F. Kennedy established the Peace Corps by executive order on March 1, 1961, more than 210,000 Americans have served in 139 host countries. Today, 8,073 volunteers are working with local communities in 76 host countries in agriculture, community economic development, education, environment, health and youth in development. Peace Corps volunteers must be U.S. citizens and at least 18 years of age. Peace Corps service is a 27-month commitment and the agency's mission is to promote world peace and friendship and a better understanding between Americans and people of other countries. Visit www.peacecorps.gov for more information.
# # #
---